Luciano Pavarotti
Tenor Titan from Modena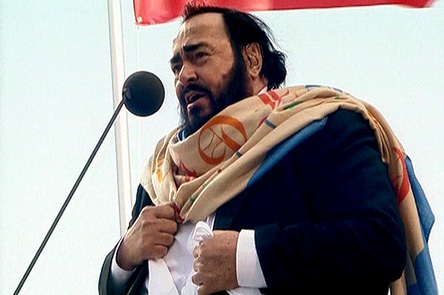 He'll be remembered as he wanted to be: as the second Caruso. He achieved both musical respect and mass impact of a kind that had not been equalled since the great Enrico. The voice was unique in timbre and power, the presence was unmistakable and he had a hint of mischief that appealed to all sexes and ages. Norman Lebrecht
Along with Ferraris, Modena owes its much of its international renown to one of the great tenors of the 20th century, Luciano Pavarotti. Born in 1935, the son of a baker and a cigar maker, he grew up listening to his father's records and watching Mario Lanza films at the cinema. Pavarotti senior was a fine amateur tenor and Luciano went along with him to sing in the church and eventually in the local male choir, the Corale Rossini.
His first career choice was to become a professional football player. His mother encouraged him instead to train as a teacher. But in 1955, the choir won first prize at the International Eisteddfod in Llangollen, Wales, the event, Pavarotti always said that changed his life and decided him on a singing career.
It wasn't easy. Luckily Arrigo Pola, a local tenor and singing instructor gave him lessons for free for years while Pavarotti taught elementary school and worked as an insurance salesman. When Pola left Modena, he was taught by Ettore Campogalliani, who also trained Pavarotti's friend and another future opera star, Mirella Freni. He didn't make much of a splash, and in 1960 he developed a nodule on his vocal chords and gave a disastrous performance in Ferrara. He decided to give up singing, and relaxed. The nodule at once vanished.
And the rest is history; in 1961 Pavarotti won the Concorso Internazionale, and soon after sang his first role as Ridolfo in La Bohème in the Teatro Reggio Emilia, one of the many Puccini and Verdi lyric tenor roles that Pavarotti made his own. He never learned to read music, and he was a terrible actor, but he could stand on stage and belt it out, a master of high notes that would send chills down the spines of the audience (here's his 1976 recording of Bizet's Pearl Fishers' Duet with bass Nicolai Ghiaurov, who was married to Mirella Freni).
In 1988, after performing Donizetti's L'elisir d'amore at the Deutsche Oper Berlin, Pavarotti received a world record 165 curtain calls.
The critics who adored him were generally less approving of his later career, although the fat pop Pavarotti made him famous well outside the opera world. He even reached hard core football supporters when his rendition of the aria Nessun Dorma became the theme song used on the BBC broadcasts of the 1990 World Cup. Many stayed on to watch after the final match, when Pavarotti joined with Plácido Domingo and José Carreras in the very first Three Tenors concert. That turned into one of the top selling classical records ever.
Remembering his early days, Pavarotti was always a big supporter of young talent, and in the 1980s started the Pavarotti International Voice Competition (helping to launch the career of Roberto Alagna among others). He would come back every year to give a Pavarotti & Friends charity concert for UN causes in the stadium in his home town, singing along with Queen, Sting, B.B. King, James Brown, the Spice Girls and Elton John.
When he died in his Modena home of pancreatic cancer in 2007, the then prime minister Romano Prodi and UN Secretary Kofi Annan attended his funeral in Modena's Cathedral. His home just outside Modena is now the Casa Museo Pavarotti.