Balsamic Vinegar
The Elixir of Modena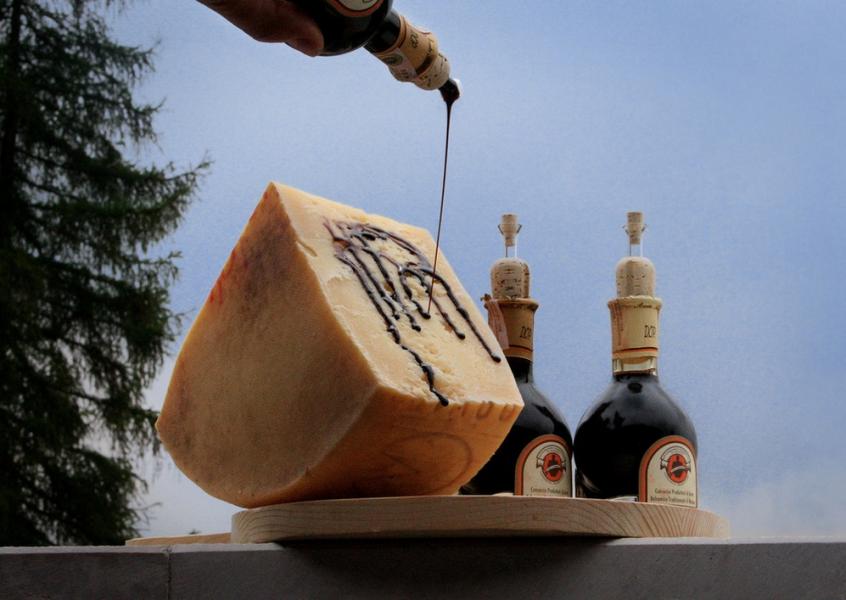 In 1944, when the frantically clanging bells of the Ghirlandina warned Modena that American bombers were approaching, thousands took to bicycles and pedaled desperately out of the city. Many of them had taken time to scoop up money, jewels and other easy-to-carry valuables; and on dozens of luggage carriers small kegs were securely strapped. They contained vinegar. Waverly Root
The city's famous balsamic vinegar, now exported all over the world, is first documented in 1046, when Countess Matilda's dad gave a keg of it to the emperor; in those days it was prized as much for its supposed medicinal qualities – hence its name – as for dressing vegetables.
Now manufactured commercially, it is made according to strict rules from the cooked and fermented must of Trebbiana grapes, to which a squirt of aged 'mother vinegar' has been added. Then it is kept in a red oak barrel. Over the next 10 years, the vinegar will be diligently poured from one barrel to another slightly smaller one (because of evaporation) in a specially prescribed sequence, each made of a certain wood, including mulberry and juniper, which give the vinegar its perfume, until it achieves its distinctive glowing coffee colour, delicate aroma and a taste between sweet and tart. The most prized vinegars are over 50 years old. Traditionally each family had its own set of six barrels, and would start a new one at the birth of a boy, so that by the time he married he would have his own stock.
One company, Acetaia Malpighi, makes not only traditional balsamic vinegars but also caramels and chocolates filled with the stuff (Vin Drop and Vin Royal respectively), designed for people who think they've tried everything.
Note that authentic traditionally-made balsamic vinegar always comes in an oval bottle, designed by Giorgetto Giugiaro (who also designed cars for Ferrari). You can learn all about balsamic and how it's made at Modena's Acetaia Comunale.