Museo Lamborghini (MUDETEC)
in the House of the Raging Bull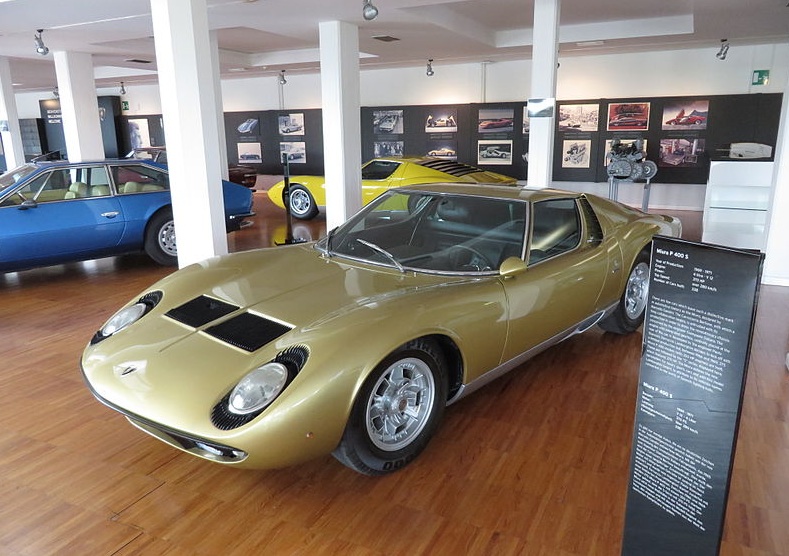 In 1963, after making a mint building tractors, Ferruccio Lamborghini decided it was time to realize his dream of founding a company to build luxury cars capable of competing with the likes of Ferrari. People scoffed, but he went ahead and purchased land in Sant'Agata Bolognese, 25km north west of Bologna, built a state-of-the-art factory, and produced the first 350 GTV in time to show it off at the Turin Auto Show.
In 1966, his two young engineers, Giampaolo Dallara and Giampaolo Stanzani, came up with a new concept for a high-powered touring car. The now-famous designer Marcello Gandini made his name by creating an eye-popping body for it, based on the racing cars of the era. Lamborghini named the new beast the Miura, after the Spanish fighting bulls of Seville (and Ferruccio Lamborghini's Taurus birth sign), and it became a sensation. From then on, all the cars would have names associated with Spain and bulls, with very few exceptions, notably the Countach, an expletive in the Piedmontese dialect—according to company legend, the first word uttered by stylist Nuccio Bertone when he laid eyes on the model's prototype.
When the world economy nosedived in the late 1970s, the market for exclusive luxury sports cars dived with it. In 1987 the company was purchased by Chrysler, then in 1994 Chrysler sold it to a group of Indonesian investors, who in turn sold it to Audi in 1998. Audi has invested heavily into restoring the company into another jewel in Italy's Motor Valley crown. 2014 was a record year for sales, with over 2500 sold, mostly in the US, Germany, the UK and Japan.
This museum opened in 2001 on two floors of Ferruccio Lamborghini's original factory building. It houses many a gleaming beast (look, but don't touch!), including one of the original 350 GTs, the Countach S, the Jalpa, the Espada, the Sesto Elemento, the Reventón, and the Murciélago (the 'Bat', also the name of a legendary bull of 1879, spared in the ring for his courage). Photos, motors and more tell the story, and if you hang out long enough, you can see the latest models being test driven on Via Modena, right in front of the museum.
Recently the museum has added a load of high tech interactive gadgetry and changed its name to MUDETEC (Museo delle Technologie).
Via Modena 12, Sant'Agata Bolognese. From Bologna coach station in Piazza XX Settembre, take bus No. 576 to Crevalcore (approx. 55 min); get off at the bus stop S. Agata B. Chiesa Frati and walk five minutes to the factory.
Hours Apr-Oct daily 9.30am-7pm; Nov-Mar Mon-Sat 9.30-6pm
Adm €20, students and over 65s €17; 6-14 €10; under age 6 free. Combination museum visits and factory tours are available (except during the first three weeks of August) by reservation only.
+39 051 681 7611