Madonna del Monte
Romanesque Rotunda engulfed in a Villa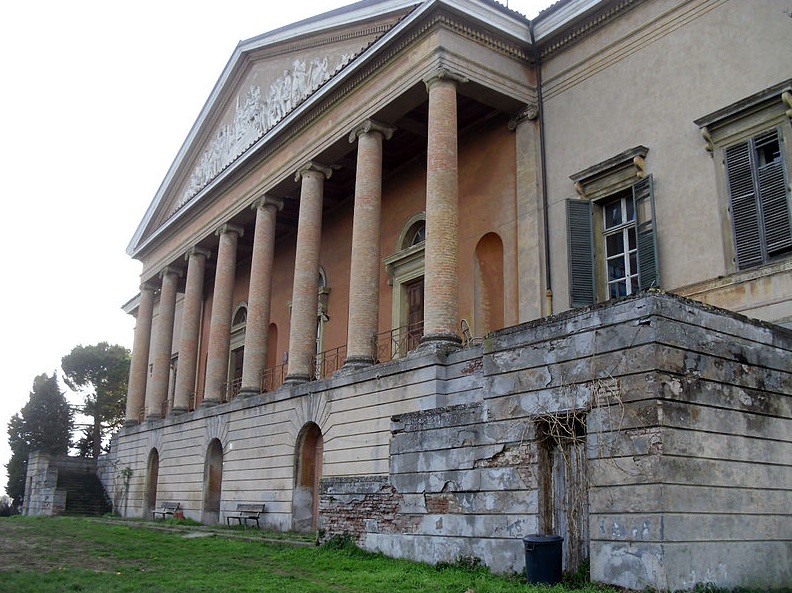 Napoleon had admired the view from the Colle dell' Osservanza overlooking Bologna, and in 1811 his powerful minister Antonio Aldini, eager to please the emperor, commissioned Giuseppe Nadi to demolish the recently-suppressed Benedictine monastery on the site then on the site and build a Neoclassical summer villa on the spot, complete with Olympian gods on the tympanum.
The monastery had a peculiar and very old round church, known as the Madonna del Monte. According to legend, the church was founded by a noblewoman, Picciola de' Galluzzi in 1116, who planned to build a shrine in memory of her husband. As she considered the site, a dove with a piece of straw in its mouth circled overhead, which Picciola took as a divine suggestion that she should build a perfectly round church oriented to the four cardinal points.
Whether or not a dove was involved, the handsome brick church decorated with blind arcading (note the curious faces and symbols at the bottom of the arches, including a swastika) was visited by Dante, and several saints, including Dominic, Anthony of Padua and Bernardino of Siena. Fortunately rather than destroy the quirky little church, Aldini built around it and used it as a music and dining room.
Text © Dana Facaros & Michael Pauls
Images by Giornale dell'Arte, Webverbesserer, PD Art