Re Enzo
Bologna's Special 'Guest'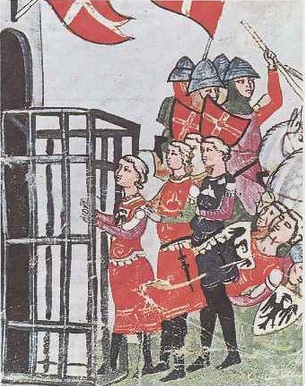 The illegitimate son of Emperor Frederick II 'Stupor Mundi', Enzo (c. 1218–1272) was his father's fair-haired boy, a fine soldier and a poet like his father. He married the widow of the King of Sardinia and inherited the title in 1238.
His father appointed him imperial vicar general in Lombardy and General-Legate in Romagna, and he won several victories on the battlefield against his father's papal enemies before being captured at the Battle of Fossalta near Modena. He was brought into the city, following Bologna's carroccio, the ox-drawn 'war cart' possessed by every Italian comune, 'with a handsome body and angelic face, and golden hair down to his belt'.
His entry to Bologna, 24 August, 1249, made such an impression that the anniversary was celebrated thereafter with the Festa de la Porchetta, which involved horse races, fireworks, theatre and porchetta (stuffed roast pork) hurled down from the Palazzo Re Enzo to the crowd waiting in Piazza Maggiore. Ever the party pooper, Napoleon put an end to it when he took Bologna in 1796.
Enzo seems to have been more of a well-guarded guest than a prisoner, receiving a constant stream of female visitors, at least during the day, when he was free to roam in the palazzo (at night he was kept in a cage suspended from the ceiling).
He also wrote troubadour-style love poems 'in the Sicilian style' which inspired some of Bologna's earliest vernacular poets. The great pre Raphaelite Dante Gabrielle Rossetti included one in his translations in his Early Italian Poets:
On the Fitness of Seasons
There is a time to mount; to humble thee
A time; a time to talk, and hold thy peace; A time to labour, and a time to cease;
A time to take thy measures patiently;
A time to watch what Time's next step may be;
A time to make light count of menaces,
And to think over them a time there is;
There is a time when to seem not to see.
Wherefore I hold him well-advised and sage
Who evermore keeps prudence facing him,
And lets his life slide with occasion;
And so comports himself, through youth to age,
That never any man at any time
Can say, Not thus, but thus thou shouldst have done.
Enzo mentioned three daughters in his will, and there's an old story says that the first of the Bentivoglio was his bastard son. Bologna's own Ottorino Respighi wrote a comic opera about him, Re Enzo.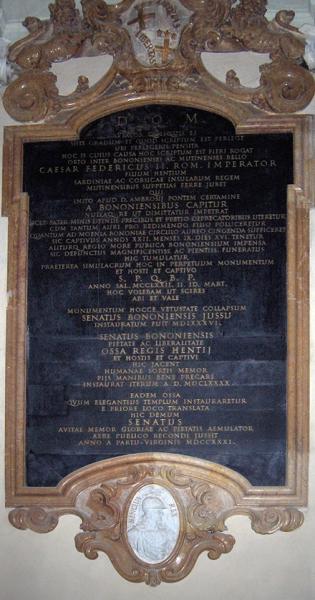 Enzo was buried, as he requested, in San Domenico's Chapel of the Holy Cross; his tombstone dates from 1731.