Fontana del Nettuno
Fontana del Nettuno
Bologna's Silly Sea-God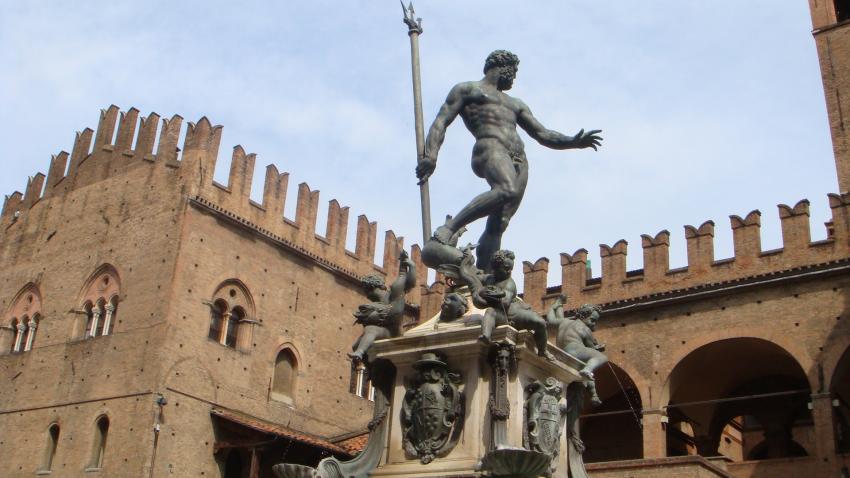 Piazza Nettuno, in the heart of Bologna between the Palazzo Comunale and the Palazzo del Podestá, is graced with the virile and vaguely outrageous Fountain of Neptune, where a very out-of-place sea god has, as the Bolognese say, 'abandoned the fishes to make friends with the pigeons'.
The fountain was designed in the 16th century by Tommaso Laureti of Palermo and embellished with sculpture by Giambologna, who despite the name wasn't a Bolognese at all, but Jean Boulogne from Flanders; he spent most of his life in Florence, but this is the work that made his reputation. For company, Giambologna gave 'Il Gigante', as Neptune is familiarly known, an assemblage of putti and mermaids; the vaguely outrageous teenagers that crowd over the fountain at all hours of the day and night came later.
The Neptune Fountain, portraying the god calming the waves with a simple gesture, was intended as an allegory of serene papal government. The serene governors knocked down a whole block to make room for it, and forced the adjacent property owners to pay for the job. Interestingly the fountain stands at the exact centre of ancient Bologna, where the two main Roman streets, the cardo and decumanus, met.
Neptune's distinctive trident may seem familiar; in the 1920's the Maserati brothers borrowed it as a logo for their automobile company.