Benvenuto Cellini
Big Bad Ben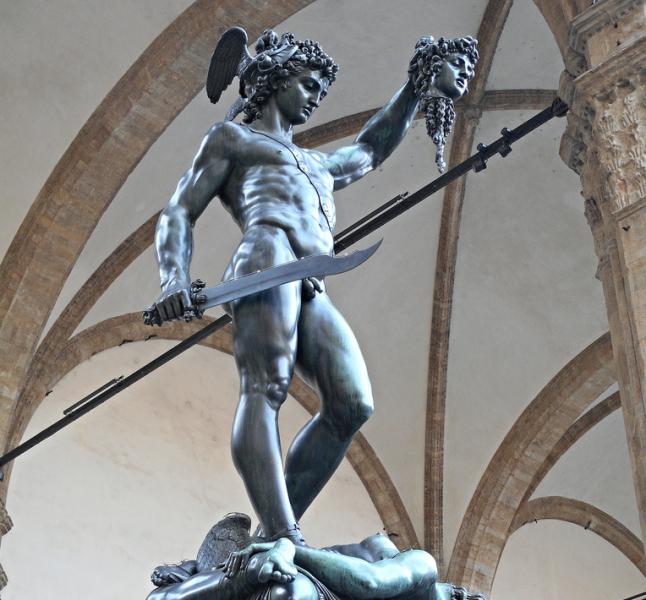 Benvenuto Cellini (1500–71) was a native of Florence, the son of a musician and instrument maker in via Chiara. Although a talented player of the flute and cornet, young Cellini preferred sculpture, and like so many sculptors he started out apprenticed to a goldsmith.
Before he attained fame for his art, Cellini made a name as a brawling hoodlum, in a career that would include more than one murder. He got himself exiled from Florence at the tender age of sixteen, and worked in Siena, Bologna and Pisa before settling in Rome. There he opened his own workshop and quickly became popular with the bishops and cardinals, creating mostly small, decorative works: medals, jewellery, tableware, and small sculptures in gold and bronze. He would spend almost all of his life in this lucrative trade, and he left behind very few large-scale sculptural works.
Cellini put his natural pugnacity to good use in 1527, when Rome was threatened by an out-of-control Imperial army. He fought in the city's defense with conspicuous bravery, and he even claimed to have killed the Imperial commander, the Connetable de Bourbon (if it's true, then he was personally responsible for the grisly Sack of Rome, and for changing the course of French history, too).
Good work on the battlefield earned him a pardon and a chance to return to Florence, where he kept himself busy—including a few more fights and murders, several mistresses, a bout of the plague, three brief prison terms and two more exiles. An assiduous buggerer, he had to face charges of sodomy several times, and once of stealing the jewels out of the papal tiara. He travelled widely, usually one step ahead of the law, and spent years working at the palace of Fontainebleau for King François I.
Cellini ranks among the great Mannerist sculptors, with a hyper-elegant style and incredible attention to detail. But it is his picaresque life that made him a celebrity, as he recounted it in his tell-all Autobiography (read it here). Cellini was bold enough to lay out the details of all his quarrels, his crimes, his loves, his dabbles with the occult. It's great fun. Both Berlioz and Saint-Saëns were inspired to adapt it for operas, and it even earned Cellini a Broadway musical: Ira Gershwin and Kurt Weill's The Firebrand of Florence.
In Florence, his great work is the Perseus in the Loggia dei Lanzi, with which he planned to outdo Donatello and Michelangelo; also see his remarkable bust of Cosimo I in the Bargello.