The First Professional Philistine
Giorgio Vasari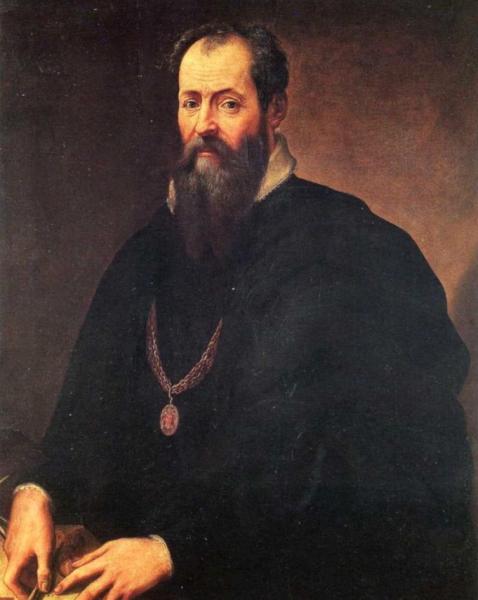 Many who have seen Giorgio Vasari's work in Florence will wonder how such a mediocre painter should rate so much attention. Ingratiating companion of the rich and famous, workmanlike over-achiever and tireless self-promoter, Vasari was the perfect man for his time.
Born in Arezzo, in 1511, a fortunate introduction to Cardinal Silvio Passerini gave him the chance of an education in Florence with the young Medici heirs, Ippolito and Alessandro. In his early years, he became a fast and reliable frescoist gaining a reputation for customer satisfaction. In the 1530s, after various commissions around Italy, he returned to Florence just when Cosimo I was beginning his plans to remake the city.
Vasari became Cosimo's court painter and architect, the most prolific fresco machine, painting over countless good frescoes of the 1300s. But more than for his paintings, Vasari lives on through his book, the Lives of the Painters, Sculptors and Architects, a series of exhaustive, gossipy biographies of artists.
Beginning with Cimabue, Vasari traces the rise of art out of Byzantine and Gothic barbarism, through Giotto and his followers, towards an ever-improving naturalism, finally culminating in the great age of Leonardo, Raphael, and Michelangelo, who not only mastered nature but outdid her. His book, being the first of its kind, and containing a mine of valuable information on dozens of Renaissance artists, naturally has had a tremendous influence on all subsequent criticism.
Much of Vasari's world seems quaint to us now: the idea of the artist striving for Virtue and Glory, the slavish worship of anything that survived from ancient Rome, artistic 'progress' and the conviction that art's purpose was to imitate nature.
But many of Vasari's opinions have had a long career in the world of ideas. His blind disparagement of everything medieval lived on until the 1800s. His dismissal of Sienese, Umbrian and northern artists has not been entirely corrected even today.
Vasari believed in a nice, tidy art that went by the book. With his interior decorator's concept of Beauty, he created a style of criticism in which virtuosity, not imagination, became the standard by which art was to be judged; history offers few more instructive examples of the stamina and resilience of dubious ideas.