Guelphs and Ghibellines
Punch and Judy, Medieval Style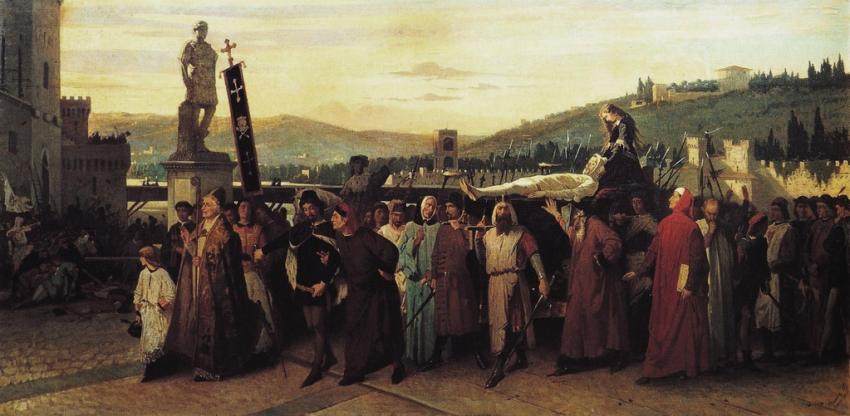 One medieval Italian writer claimed that the factional strife began with two brothers of Pistoia, named Guelf and Gibel. One murdered the other, starting the seemingly endless troubles that to many seemed a God-sent plague to punish the proud and wealthy Italians for their sins. However, most historians trace the roots of this party conflict to two great German houses, Welf and Waiblingen.
The chroniclers pinpoint the outbreak of the troubles to 1215, when a politically prominent Florentine noble named Buondelmonte dei Buondelmonti was assassinated by his enemies (he had broken a marriage contract and married another girl) while crossing the Ponte Vecchio. It was the tinder that ignited a smouldering quarrel all over Italy, particularly in Tuscany.
The atmosphere of city-states, each with its own internal struggles between nobles, the rich merchant class and the commoners, crystallized rapidly into parties. Initially the Guelphs, largely a creation of the newly-wealthy bourgeois, were all for free trade and the rights of the free cities; the Ghibellines were the party of the German emperors, nominal overlords of Italy. Naturally, the Guelphs found their protector in the emperors' bitter temporal rivals, the popes, which brought a religious angle into the story.
Before long, the labels Guelph and Ghibelline ceased to have any meaning at all. In the 13th and 14th centuries, the emperors and their Ghibelline allies helped the church root out heretical movements like the Patarenes, while the popes schemed to destroy the liberty of good Guelph cities, especially in Umbria, and incorporate them into the Papal State. In cities like Florence, where the Guelphs won a final victory, they themselves split into parties, battling with the same barbaric gusto.
Black was the Ghibelline colour, white the Guelph, and cities arranged themselves like squares on a chessboard. When one suffered a revolution and changed from Guelph to Ghibelline, or vice versa, its nearest enemies would soon change the other way. Often the public buildings give us a clue as to the loyalties of a city in any given time. Simple, squared crenellations are Guelph; ornate 'swallow-tail' crenellations are the mark of the Ghibelline.
The English looked on with bewilderment. Edmund Spenser, in his Shepheards' Calendar (1579), wrote this fanciful etymology:
when all Italy was distraicte into the Factions of the Guelfes and the Gibelins, being two famous houses in Florence, the name began through their great mischiefes and many outrages, to be so odious or rather dreadfull in the peoples eares, that if theyr children at any time were frowarde and wanton, they would say to them the Guelfe or the Gibeline came. Which words nowe from them (as may thinge els) be come into our usage, and for Guelfes and Gibelines, we say Elfes and Goblins.'