Landscapes
Arty Nature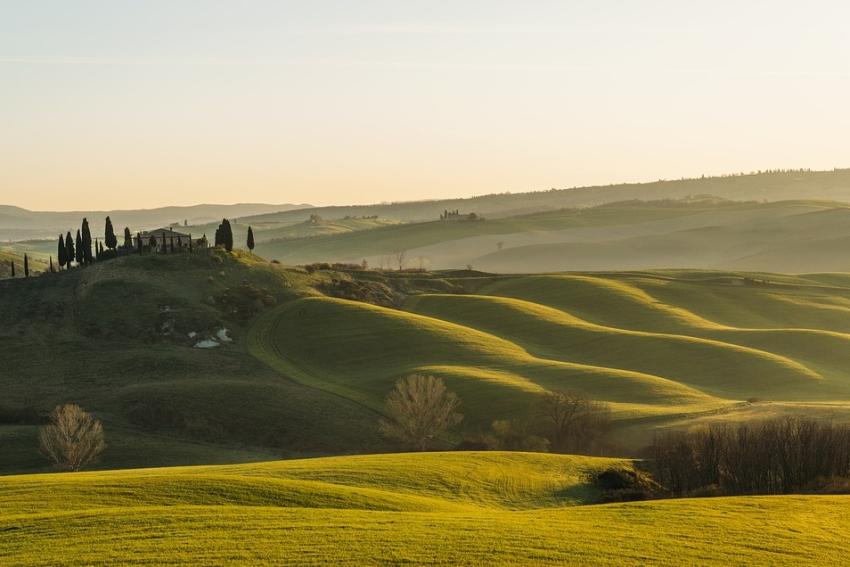 There may be other regions in Italy that are lusher, others with taller mountains and more fertile valleys, and others that support more varied flora and enjoy a more temperate climate. Yet ultimately, it is the landscapes of Tuscany and Umbria that exert the most lasting charm. In the paintings of the Renaissance, the rolling hills, cypresses, poplars and parasol pines, vineyards and winding lanes of the background are often more beautiful than the nominally religious subject in the foreground. As early as Giotto, artists took care to relate the figures in their composition to the architecture and the landscape around them, epitomized in the paintings of Leonardo da Vinci, where each tree and rock takes on an almost mystic significance.
The tidy geometry and clipped hedges of an Italian garden are a perfect example of the Italian urge to order nature, and you'll find good examples in the Boboli Gardens and the Medici villas at Castello and Collodi. The Tuscans, in the vanguard of Italy in so many ways, were the first to order their entire territory.
The vicious wars of the Middle Ages devastated the countryside (as is visible in the harsh, barren brown and grey hills of trecento painting); the Black Death in the 1300s depopulated the cultivated areas, giving the Tuscans the unique opportunity to arrange things just so. Not entirely by coincidence, the late 14th century was the time when the élite, weary of city strife, were discovering the joys of the country and building villas, playing the country squire and gentleman farmer whenever possible.
And they planted everything in its place according to elegance and discipline, each tree with its own purpose; to act as a boundary marker, to offer shade, or to support a vine. Cypresses and parasol pines often stand strikingly along the crest of hills, not for aesthetics or as a study in perspective, but as a windbreak. Strongest is the sense that nothing has changed for centuries, that in the quattrocento Gozzoli and Fra Angelico painted the same scene you see today. Few landscapes anywhere are more ancient, or more civilized.