Piazza Santissima Annunziata
A Revolution in Urban Design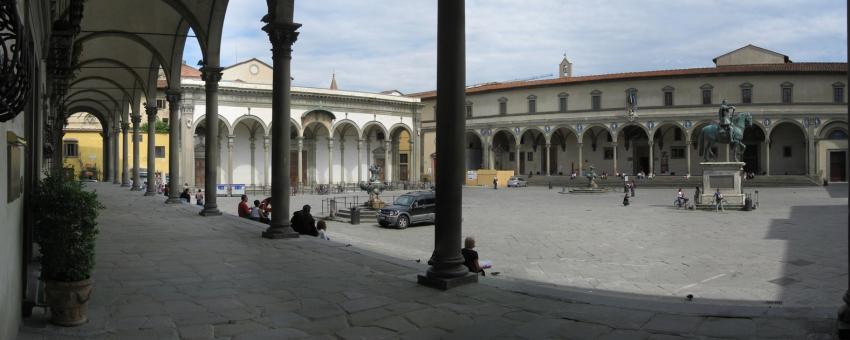 This lovely square was the first Renaissance attempt at a unified architectural ensemble. It marks the transition from medieval to modern urban design, and it is the direct ancestor of Michelangelo's Campidoglio in Rome, the royal squares of 17th-century Paris and the residential squares of 18th-century London.
Arcaded on three sides, with a pair of matching palazzi on the fourth, the Piazza owes its beauty and its importance not to a single planner, but to what Edmund Bacon, in his classic Design of Cities, calls the 'Principle of the Second Man'.
The Piazza was already in existence when Brunelleschi built his arcaded Spedale degli Innocenti on one side. The 'Second Man' in this case was Antonio da Sangallo the Elder, brother of Giuliano da Sangallo. Commissioned in 1516 by the Servite Order to build a convent opposite the hospital, he decided on an arcaded façade of what became known as the Loggiato dei Servi (now a hotel)that would mirror and complement Brunelleschi's work. By continuing the previous architect's vision instead of insisting on something 'original' of his own, he transformed an isolated building into a unified symmetrical composition.
The symmetrical treatment may also have been suggested by the splendid vista of Via dei Servi between the two buildings, framing the cathedral dome. The next 'Second Man', the one who completed the ensemble, was Giovanni Battista Caccini, who added another arcaded portico the the Piazza's main monument, the church of the Santissima Annunziata.
The Annunziata, of course, is this Piazza's reason for being. This used to be the site of a city gate, the Porta dei Balli. The Servite Order laid out the Piazza in front of its new mother church, and built Via dei Servi to connect this new pole to central Florence (the new street passed through property they owned—profiting from development plans is nothing new). So the first unified design composition since ancient times was the work of monks.
In the centre stands the equestrian statue of Ferdinand I (1607) by Giambologna and his pupil Pietro Tacca, made of bronze from Turkish cannons captured during the Battle of Lepanto.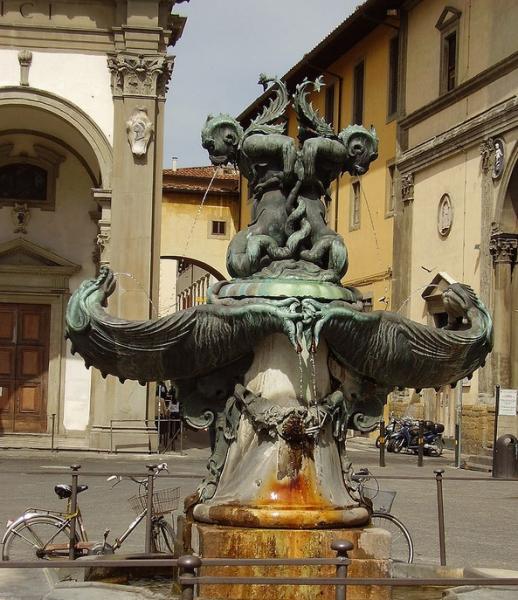 But more intriguing than Ferdinand are Tacca's bizarre Baroque fountains that bookend the square. Intended as compliments to Tacca's famous Fountain of the Four Moors in Livorno, the Florentines kidnapped them and installed them here in 1641. Known as the 'Fontani dei Mostri Marini' (of the sea monsters), they are topped by creatures that bear an uncanny resemblance to the Wicked Witch's flying monkeys in Oz, they are covered with a bouillabaisse worth of marine detail and have recently been restored several times,