Piazza del Duomo
Florence's Holy Centre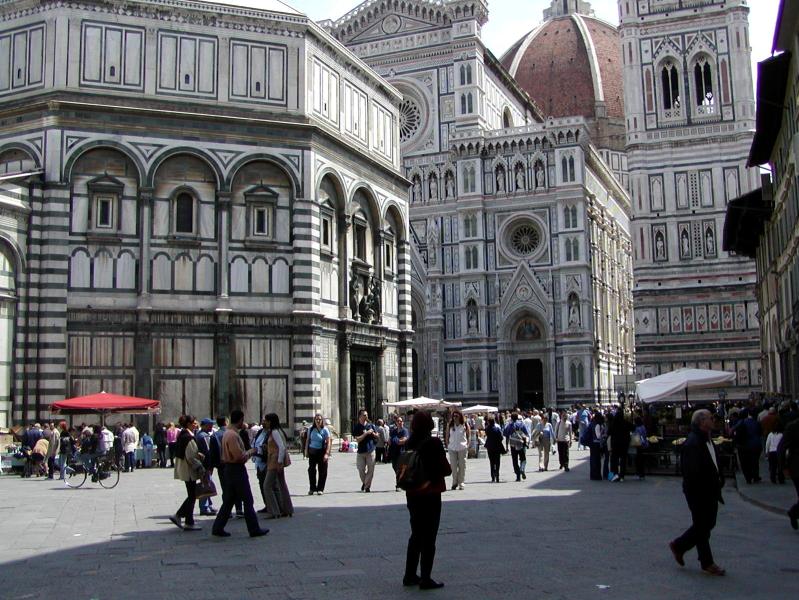 In many ways, Piazza del Duomo is the key to the city, and essential to understanding everything that comes after. Tour groups circle around the great spiritual monuments of medieval Florence like sharks around their prey, preyed on in turn by postcard vendors and portrait painters. An occasional street musician serenades the human carnival from a hundred nations, while ambulances of a medieval first-aid brotherhood stand at the ready in case anyone swoons from ecstasy or art-glut. As bewildering as it often is, however, the Piazza del Duomo is the best introduction to this often bewildering city.
It's a peculiarity of Tuscan cities to have Cathedral complexes set away from the centre, as at Pisa or Lucca. In Florence's case, the city grew enough to surround and embrace the Cathedral of Santa Reparata and the old Baptistry—a building more important to the Florentines than any cathedral, one which occupies the site of an ancient temple to the city's ruling deity Mars.
The growth of the cathedral district made medieval Florence a city with two poles, connected by Via de' Calzaiuoli: Piazza della Signoria for the republican government, Piazza del Duomo for spiritual concerns, and for the power of the Church.
Everyone comes here to see the Duomo, the Baptistry, Giotto's Campanile and the Museo dell'Opera del Duomo, which is on the eastern end of the Piazza behind the Duomo's central apse. Here are a few of the other things to see around the Piazza.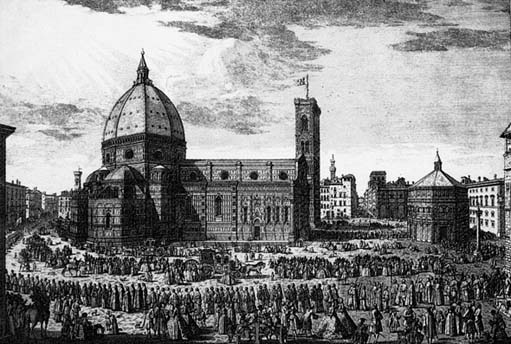 Local legend says that Dante watched the building of the Duomo from an old stone bench (sasso) which stood on a spot now occupied by a restaurant, on the southern edge near Via del Proconsolo. A plaque on Piazza delle Pallottole (between Nos.54r and 44r), just off Piazza del Duomo, marks the spot.
At the corner of Via de' Calzaiuoli is a charming medieval survival, the Loggia del Bigallo, built in the 1350's. The Compagnia del Bigallo was a charity that cared for the city's poor; the Loggia was the place where indigent mothers could anonymously leave unwanted babies to the confratenity's care, instead of exposing them outside the city walls.
Just across the street is another medieval institution that once was merged with the Bigallo, the Arciconfratenitá della Misericordia. This one is still on the job—you can see their ambulances parked out front—but they have also opened their collection of relics from their history, and their Oratory full of Renaissance art, as the Museo della Misericordia.