Loggia dei Lanzi
Gothic Jewel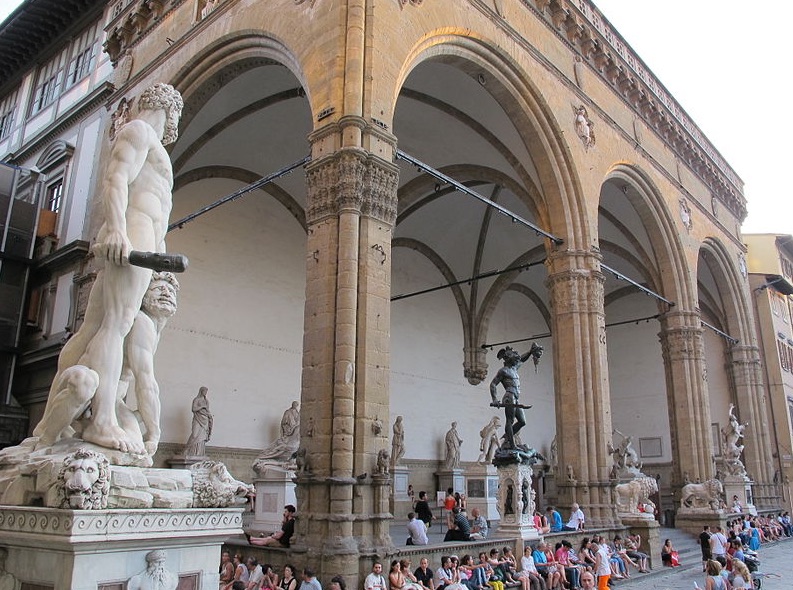 Generally of a lower key than a political harangue was the parlamento, a meeting of eligible male citizens to vote on an important issue (perhaps because the outcome was usually decided in advance by the bosses). On these occasions, the Florentines heard speeches from the platform of this graceful three-arched loggia, also known as the Loggia della Signoria or the Loggia dell'Orcagna, after Andrea Orcagna, the probable architect. Completed in 1382, when pointed Gothic was still the rage, the loggia with its lofty round arches looks back to classical antiquity and looks forward to the Renaissance; it is the germ of Brunelleschi's revolutionary architecture.
If the impenetrable, stone Palazzo Vecchio is a symbol of the republic's muscle and authority, the Loggia dei Lanzi is a symbol of its capacity for beauty. The loggia received its name 'of the lances' after the Swiss lancers, the private bodyguard of Grand Duke Cosimo I.
It was Cosimo who, in 1545, was responsible for the most famous sculpture sheltered in the arcade, Cellini's newly restored Perseus: not by commissioning it from the volatile Cellini, but by scoffing, saying a life-sized bronze statue was impossible, infuriating Cellini, who proved him wrong, although it took him 10 years, and cost him his health and the roof of his house, which caught fire as he stoked the furnace to melt the bronze.
The result, his masterpiece, is a Mannerist tour de force with its attention to detail and expressive composition, the figure of Perseus graceful and poised atop the gruesome bleeding trunk of Medusa, eyes averted from the horrible head with its petrifying gaze. The subject was a subtle hint to the Florentines, to inspire their gratitude for Grand Ducal rule which spared them from the monstrosity of their own unworkable republic.
Another wager was behind the creation of Giambologna's Rape of the Sabines (1583): he took a rough block of marble all the other sculptors in Florence had rejected as impossible, on the bet that he could do something with it. Its curious shape 'liberated', as Michelangelo would say, became an old man, a young man and a woman spiralling upwards in a fluid contrapposto convulsion, one of the first sculptures designed to be seen from all sides: the title was stuck on after its completion.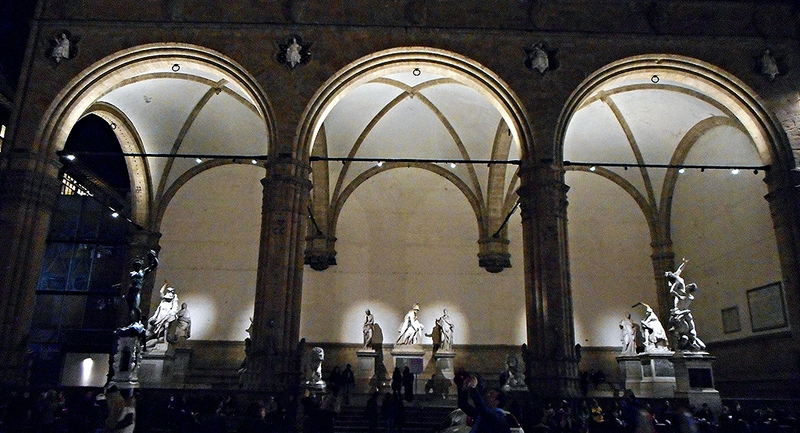 The loggia also shelters Giambologna's less successful Hercules and Nessus, a chorus line of six Roman vestal wallflowers, and several other works that contribute to the rather curious effect, especially at night, of people at a wild party frozen into stone by Medusa's magical gaze.
The Medici Lions guarding the entrance, cousins of the Marzocco were made for Grand Duke Ferdinando I de' Medici and originally stood in front of the Villa Medici in Rome, and were moved here in 1789.