Museo Galileo
The History of Science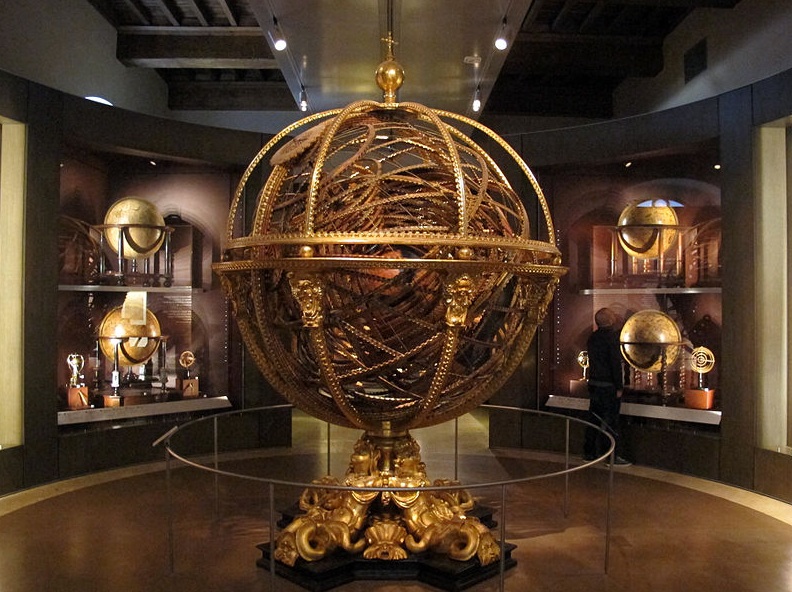 For all that Florence and Tuscany contributed to the birth of science, it is only fitting that this museum should be in the centre of the city, in the 11th-century Palazzo Castellani just behind the Uffizi.
Between 1574 to 1841, the palace was the seat of the Giudici di Ruota, the Duchy's high court judges; later it housed the Biblioteca Nazionale and the Accademia della Crusca before becoming the city's science museum.
Room I is devoted to scientific items collected by the Medici that were originally displayed in the Tribuna of the Uffizi, including curious looking glass thermometers blown in the Pitti Palace glassworks.
Room II contains instruments measuring time and distance that are often works of art in themselves, including pocket sundials and Tuscan sundials in the shape of Platonic solids.
Rooms III and IV are various maps including enormous elaborate armillary sphere by Cosimo III's cosmographer Antonio Santucci, giant globes made by the Venetian cartographer Vincenzo Coronelli and a copy of a 15th-century map of the world, by another Venetian, Fra Mauro. Room V has navigational instruments, portolans, and astrolabes, and a bust of Florence's most famous navigator, Amerigo Vespucci, while Room VI contains the callipers, quadrants and sights developed for the battlefield.
Room VII is the most precious, dedicated to Galileo. Here are two of his original telescopes (the only known ones to survive) and the lens he squinted through to discover the first four moons of Jupiter in 1610, a discovery publicized in a book called the Medicea Sidera in honour of his benefactors. Here too is a small reliquary holding the bone of Galileo's finger, erect, like a final gesture to the city that until 1737 denied him a Christian burial.
It was removed, along with other bits, when his body was transferred from a storage room to a monumental tomb – opposite that of Michelangelo, in Santa Croce.
Room VIII is dedicated to the instruments, especially the first thermometers and calculating machines, made for the experiments of the Accademia del Cimento. Room IX has telescopes and other instruments made after Galileo.
The Lorrain Grand Dukes carried on the Medicis' interest in science, and added to the Physics Museum they had founded. Some of the items, in their original display cases are in Room X: optical and meteorology instruments, and 40 18th-century clay obstetrical models designed to teach budding obstetricians about unfortunate foetal positions, as well as a fine display of antique surgical instruments.
Room XI has items that amazed and delighted 18th-century spectators of experiments, often held by travelling lecturers in theatres, including prisms, electric machines and airpumps, while Rooms XII and XIII are dedicated to machines that taught the students the principles of physics, mechanics and electrostatics.
Room XIV features precision instruments (microscopes and telescopes, and meteorological apparatuses) from the 18th and 19th centuries. Some early electrical motors, barometers, optical benches and the thermopile and sparking magnet invented by physicist Leopoldo Nobili (1784-1835), are in Rooms XV and XVI.
Room XVII is devoted to chemistry; Room XVIII covers science in the home—clocks and watches, scales, portable pharmacies, home telescopes and microscopes.
Beyond are the Interactive Rooms with early turret clocks, instruments used to calculate longitude, and models reproducing some of Galileo's most important experiments.
There's more, including a planetarium, in the museum sponsored Fondazione Scienza e Tecnica e Planetario
Piazza dei Giudici
Hours Wed-Mon 9.30am-6pm; Tues 9.30am-1pm
Adm €9, ages 6-18 €5.50, under 6 free. Save your ticket to get a discount at La Specola.
+39 055 265311