Museo Casa di Dante
The Shrine to Florence's Poet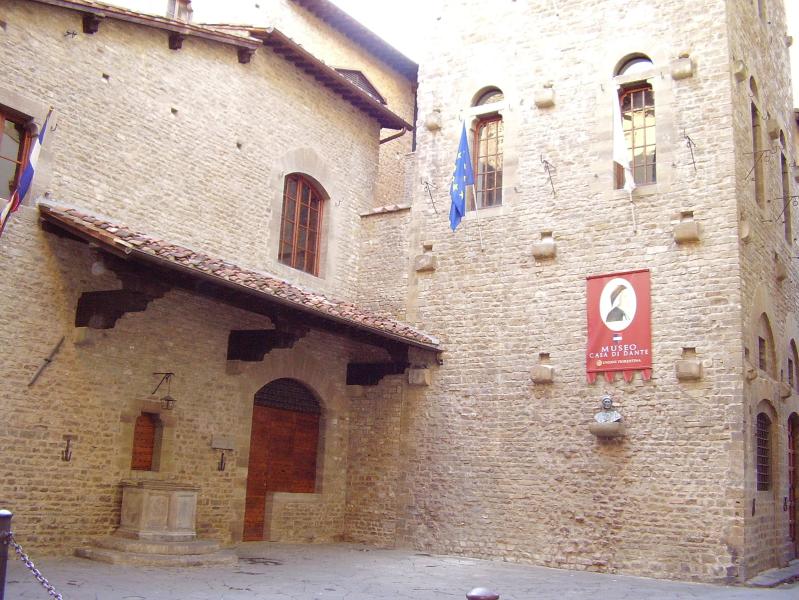 Most scholars believe Dante was born here in Via Dante Alighieri. The poet himself only mentions the neighbourhood: San Piero, the sixth of Florence's six sestrieri. If this was indeed the street, young Dante would have had a good seat for festivals; medieval Florence had a Palio, like Siena's, and this street was part of the course. In 1911, one of its houses was declared the Casa di Dante. Although the house was actually new, built over the ruins of an amputated tower house of the Giuochi family, scholars at least agreed that the Alighieri lived somewhere close by.
Fancifully restored in 1960, and again in the 2000's, this museum has made a game attempt to evoke Dante's life and times. There is a model of Florence as it was in the 13th century, and mock-ups of the Battle of Campaldino, where Dante fought as a soldier. Near the entrance is an edition of The Divine Comedy, all printed in tiny letters on a poster by a mad Milanese.
Of the manuscript reproductions, the most interesting is an illumination of the infamous murder of Buondelmonte dei Buondelmonti, with the Ponte Vecchio and a statue of Mars, the original Marzocco, in place. Upstairs there are copies of Botticelli's beautiful line illustrations for the Commedia.
Torre della Castagna
A modern bas-relief on one of the buildings on Via Dante Alighieri, opposite Via Santa Margherita, shows the sights that would have been familiar to Dante – the Bargello, the Badia campanile, and the sturdy, well-preserved Torre della Castagna, which stands just ahead on the left, on the corner of Via Dante Alighieri and Via dei Magazzini, one of scores of similar tower houses that once made Florence's skyline resemble Manhattan's. This was the residence of the priori, the governors of the city, before the construction of the Palazzo Vecchio. Dante himself was a priore once (elected by lot from the list of citizens, as in many medieval Italian city-republics) and he would have spent his two-month term of office living here, as the law required.
Via S. Margherita 1
Hours: Apr-Oct daily 10am-6pm, Nov-Mar Tue-Fri 10am-5pm, Sat & Sun 10am-6pm
Adm €4, reduced €2