Borgo degli Albizi
Street of Palaces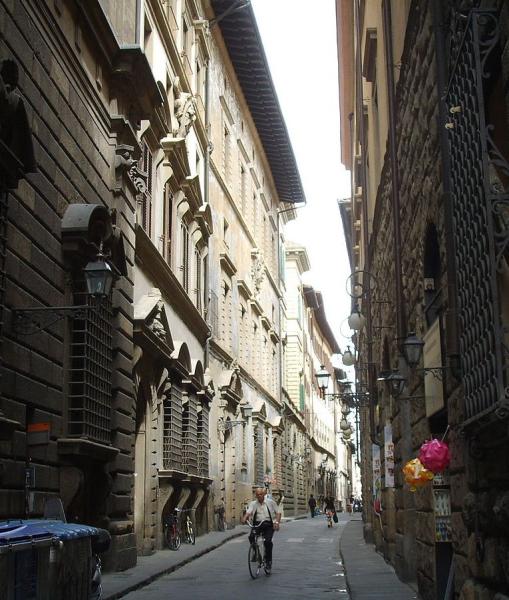 This fine old street was part of the ancient Via Cassia, linking Rome with Bologna; it deserves a leisurely stroll for its palaces and boutiques. At its western end, at Via del Procònsolo, stands the Palazzo Nonfiniti. Begun for the Strozzi family in 1593, at least eight architects had a whack at this palace, including Buontalenti, but somehow it never got done. A guidebook writer in 1822 referred to it as the 'palazzo non finiti' and the name stuck. It was, of course, eventually completed; it served for a long time as Florence's prefettura, and later as its post office. Now it is home to the Museo Nazionale di Antropologia ed Etnologia.
Across the street, the Palazzo Pazzi (begun 1458) is an austere but pleasing, classic Florentine palace, attributed variously to Giuliano da Maiano and Michelozzo. Florentines used to call it the Palazzo della Congiura, the 'Palace of the Plot', since this was the home of the banking family that attempted to assassinate Lorenzo de' Medici in church in 1478—the 'Pazzi Conspiracy', one of the great commotions of Florentine history. The palace was confiscated upon the failure of the plot, and passed through many hands thereafter; today it's government offices.
At No.26, the Palazzo Ramirez di Montalvo built by Ammannati in 1568 for Cosimo I's court chamberlain, Antonio Moltalvo, is decorated with elaborate graffito (overseen by Vasari). Cosimo paid for most of the palace, and the deluxe model of the Medici coat of arms over the portal was Ramirez's way of saying thank you.
You can't miss No.18, the cinquecento Palazzo Valori-Altoviti, nicknamed Palazzo dei Visacci or 'funny face palace' for its owner's desire to immortalize Florence's great men (Dante, Boccaccio, Vespucci, Alberti, etc.) with surreal, semi-relief busts in blue draperies across the three floors of the façade.
Borgo degli Albizi ends up in one of Florence's most picturesque little squares, Piazza San Pier Maggiore, site of a gate in the original city walls. A very important monastic church, San Pier Maggiore, once stood here. The abbess of San Pier was one of the most important personages in old Florence; the Florentines jokingly called her 'the bishop's wife'. Her church was packed with art, including frescoes by Botticelli, but in 1783 one of the nave pillars collapsed and was found to be made of just wood and painted plaster instead of stone. So Grand Duke Peter Leopold ordered it demolished—some say, however, the real reason was that the neighbours in the palaces simply wanted to banish the nuns and the poor who hung around them for charity from their fancy street.
The arched portico on the piazza was once the base of the church's facade; the flats on top of it look like some of the cosiest addresses in the city.