Pianta della Catena
Florence in its Prime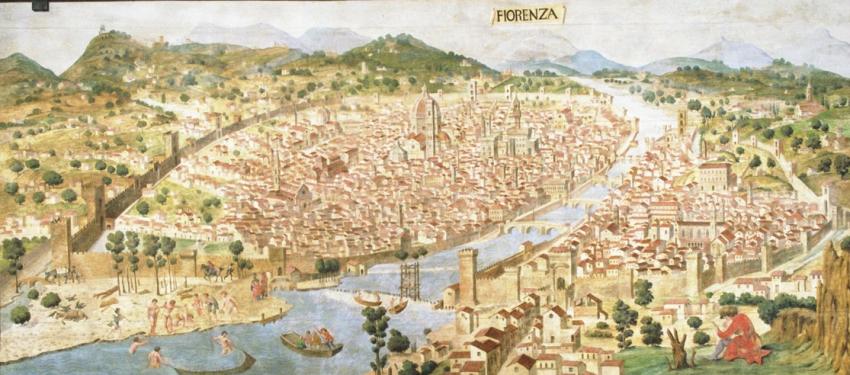 The star of a new exhibit, the Tracce di Firenze in the Palazzo Vecchio, the Pianta della Catena is actually a copy, as the original made in 1490 by an unknown artist – that handsome fellow pictured in the lower right-hand corner – was lost in a Berlin museum during the last war. This fascinating painting captures Florence at the height of the Renaissance, a city of buildings in bright white, pink and tan; the great churches are without their façades, the Uffizi and Medici chapels have not yet appeared, and the Medici and Pitti palaces are without their later extensions.
Dante's Florence, for all its confusion and factional fights, was just growing into opulence in his day. The two great projects that would dominate the city of the future, the Duomo and the Palazzo Vecchio, were already underway.
Look at the finely detailed Pianta and imagine the town without them – little towers and red tile roofs, with the Ponte Vecchio and the new Bargello (begun 1255, finished 1346) the major landmarks of the town, along with a few more of the noble tower-fortresses that the republic was still gradually demolishing. Florence was just beginning.