Pratolino
The Parco Mediceo and Giant Appennino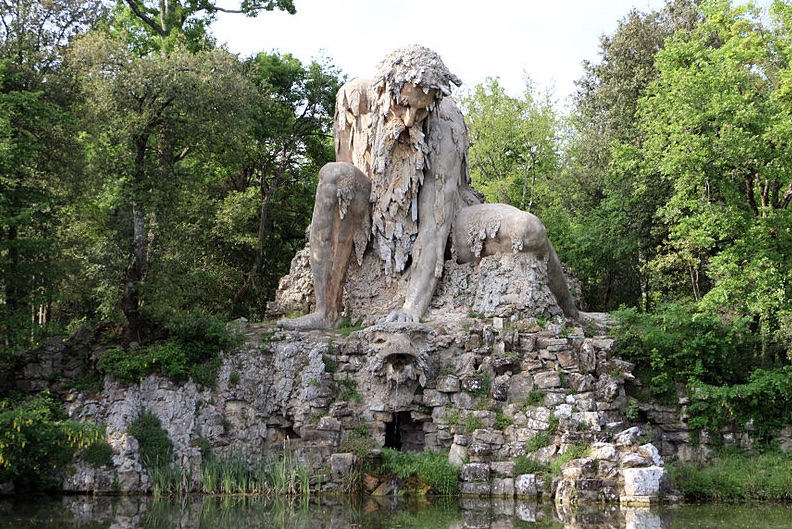 In 1568, the infatuated Duke Francesco I built this charming Villa Demidoff Pratolino as a gift to his mistress, the beautiful Venetian Bianca Cappello, whom the rest of Florence hated as much as he loved.
Francesco commissioned Bernardo Buontalenti – artist, architect, and hydraulics engineer, nicknamed 'delle Girandole' (of the Catherine wheel) for the fantastic fireworks he made – to design the enormous gardens, and he made Pratolino the marvel of its day, full of water tricks, ingenious automata, grottoes with changeable scenery, musical waterfalls and organs and a famous menagerie, all of which greatly impressed Montaigne during a visit in 1581, who said it rivalled the fabled Mannerist Villa Este gardens near Rome. As for Bianca, he sent home this description:
According to the Italians [she] is beautiful. She has an agreeable and imposing face, and large breasts, the way they like them here…
Sadly, none of Buontalenti's wonders have survived. After Francesco and Bianca's deaths, the villa was abandoned. Many of the garden statues were moved to the Boboli Gardens, while the rest fell into romantic ruin. The one bit that survived was too big to move: the largest-ever example of this play between art and environment – Giambologna's massive Appennino, a giant rising from stone, made of stone, plastered masonry with an iron framework, emerging out of rocks over a water lily lake, squeezing a water-spitting dragon under his palm. Inside the giant are decorated grottoes; his head contains a room big enough for 12 people, originally designed for musicians that might or might not be open.
So who is Appennino? Some say he's Jupiter, others the god of the nearby Apennines. The Medici liked to trace their descent back to one Averardo, a knight who fought with Charlemagne and killed a similar giant who had been terrorizing the Mugello just north of here. In the battle, the giant bashed deep dents in Averardo's shield, which Charlemagne made into his coat of arms, the famous Medici palle or balls (although other people say they are really pills, since Medici means 'doctors').
When the Lorraines inherited the place, they made the rest of the park into an English garden. Prince Paolo Demidoff bought the estate in 1872 and restored the servants' quarters as his villa. Later owned Prince Paul of Yugoslavia, it was purchased in 1981 by the city as a park, an invitingly cool refuge from a sweltering Florentine summer afternoon .
12km north of Florence along Via Bolognese; bus 25A from Piazza San Marco or a SITA bus from Piazza Santa Maria di Novella.
Hours Apr-Oct Fri-Sun and holidays 10am-8pm.
Adm Free
+39 055 4080721