Impruneta
Terracotta Town With a Holy Icon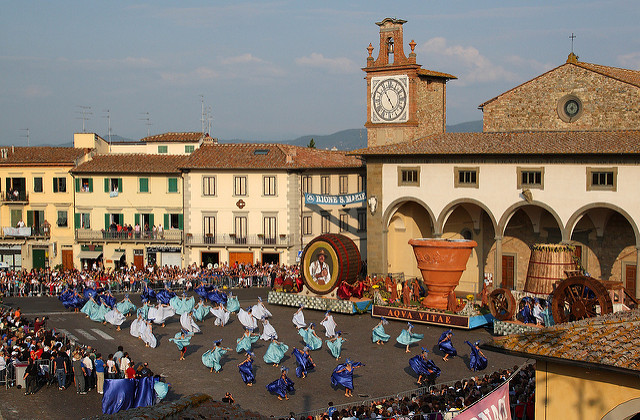 Since the 11th century, Impruneta, a large town on a plateau 15km from Florence has been noted for its terracotta pots and tiles (including those on Brunelleschi's dome), all of which are very much on sale, especially during St Luke's Horse and Mule Fair in October.
Basilica di Santa Maria and its icon
The fair takes place in the main piazza in the shadow of Impruneta's pride and joy, the Basilica di Santa Maria, one of Tuscany's three great Marian shrines. It was built to house a miraculous icon of the Madonna and Child attributed to St Luke, that according to a legend first described in the 14th century, was brought to Tuscany in the 4th century by St Romolo. Romolo buried the icon to protect it from impious n'er do-wells, in a forest that gave the town its name 'within the pine woods'.
Centuries later the locals started building a chapel on a nearby hill, only to find every morning that their previous work had collapsed. A holy hermit suggested hitching a wagon of building stone to untamed oxen to see where they might travel. When they reached the site of the basilica, they knelt and refused to budge. As the men began to dig at the site, they heard a female voice come from the ground, and quickly discovered the icon.
The church was consecrated in the 1060. The miraculous icon was frequently taken in processions to Florence during times of famine, plague and war. In 1633, the icon's intervention was credited with halting the bubonic plague, which increased its reputation, led to the construction of its portico to protect the pilgrims who flocked here, and filled it with gifts, many now displayed in the Museo del Tesoro. It did fail, however, in spite of its most lavish and costly procession in 1711 to save the second last male Medici, the syphilis-ridden crown prince Ferdinando Maria de' Medici. Nevertheless it was given a major Baroque makeover.
After the Basilica was bombed in 1944, restorers brought it back to its Renaissance appearance. On either side of the high altar are two beautiful chapels designed by Michelozzo, modelled after the one he built for the icon's holy rival in Santissima Annunziata. The one on the left, richly decorated with enamel terracottas by Luca della Robbia, holds the icon (unveiled every Wednesday during the 10am Mass); the one on the right, also decorated by Luca, holds a piece of the True Cross.
Much of the basilica's other art was lost in the bombing, but the bronze crucifix in the right nave is by Pietro Tacca; on the left is Jacopo da Empoli's Vocation of Peter and Andrew.
Florence American Cemetery
Nearby in Tavernuzze, the beautiful 70-acre Florence American Cemetery and Memorial (daily 9-5) holds the graves of 4,401 GI's of the Fifth Army who fell on this busy part of the Italian front 1944-45.
Getting There: Frequent ACV Buses on the 366 line make the trip from Florence to Impruneta
Basilica Hours Mon-Sat 7.30-11.30am, 4.30-.30.pm. Closed Wed afternoons. Sun and hols 7.30am-noon and 4.30-7pm. Museo del Tesoro: Apr-Oct Sat & Sun 9am-1pm and 4-7pm; Nov-Mar Sat & Sun 9am-1pm and 3-6pm