Piazzale Donatello
And the English Cemetery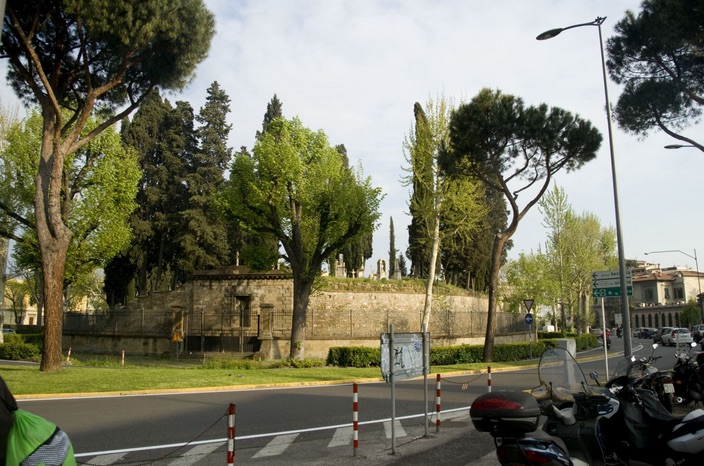 Donatello's name has suffered terrible indignities of late (many young people know him only as a Teenage Mutant Ninja Turtle) but the Florentines, at least, could spare their greatest sculptor something more dignified than Piazzale Donatello, a swollen artery in the city's frenetic system of viali that take traffic around the centre.
Pity, too, Elizabeth Barrett Browning (1809–61), in her beautiful sarcophagus designed by Lord Leighton and the other expatriates buried in the piazza's English Cemetery, once a must see on the Grand Tour – now a traffic island choked in eternal fumes.
Yet step inside the walls and it's a haven of Tuscan tranquillity. The cemetery for Protestants was established in 1827 by Swiss Evangelicals by the medieval gate to Fiesole, the Porta Pinti (demolished in 1865). Soon, however, the Swiss were outnumbered by members of the Anglo-Florentine community, including poets Arthur Hugh Clough (d. 1861), a great supporter of Florence Nightingale's work, and Walter Savage Landor (d. 1864), with an epitaph by Swinburne; the most elaborate sculpture in the whole cemetery is of his estranged wife, grieving over the grave of their son. Famous non-Brits include a pair of Americans, sculptor Hiram Powers (d. 1873) and Theodore Parker (d. 1860) a Transcendentalist and abolitionist.
One Anglo Florentine who isn't here is Robert Browning, who died in Venice at the home of their son Pen, 28 years after Elizabeth, and wanted to be buried here, but the cemetery closed for new burials in 1877, and Browning was instead laid to rest in the Poets' Corner of Westminister Abbbey.