Lorenzo il Magnifico
Patron of the arts?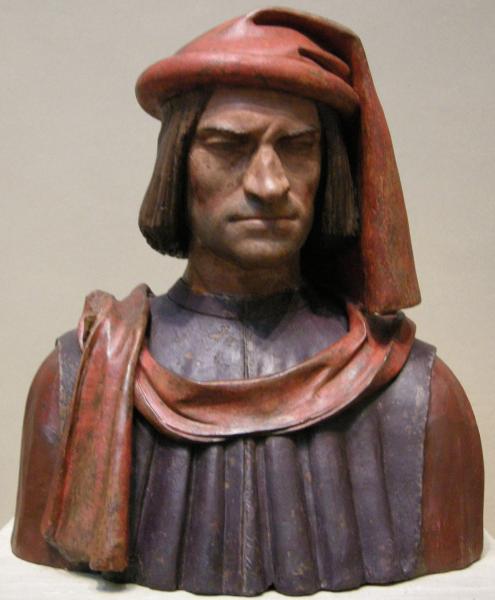 Florence could not have had a better or a more delightful tyrant. Giucciardini
Grandson of the elder Cosimo, son of art patron Piero di Cosimo de' Medici ('the Gouty'), Lorenzo (1449-92) was fortunate to be nabob of Florence at its most artistically creative period. We cover his career in detail in the history but just wanted to say a few words about his role as an art patron, because future historians and Medici propagandists gave him a reputation as an art patron that is entirely undeserved.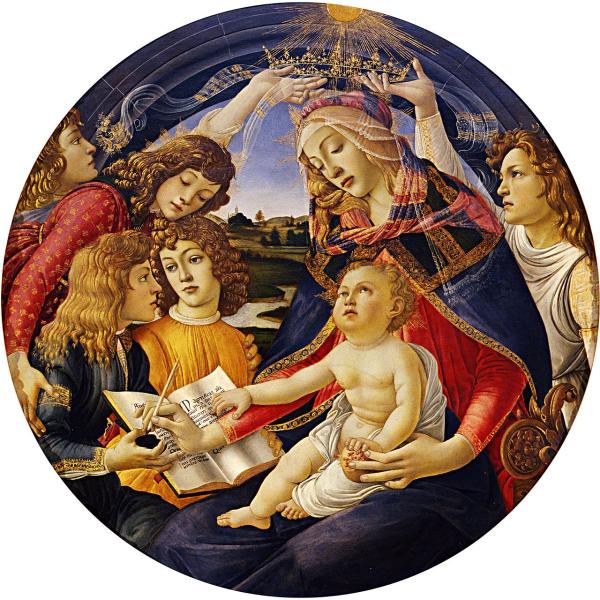 One would have thought otherwise. Lorenzo was surrounded by the greatest artists of the day from childhood. As children he and his brother Giuliano appear in paintings by Ghirlandaio and Botticelli (in the Botticelli above, his mother, Lucrezia Tornabuoni, is the Madonnna, while Lorenzo is the earnest looking boy holding her ink well). As young men, they were depicted as princes in Gozzoli's Procession of the Magi in the Palazzo Medici-Riccardi. Lorenzo's brother Giuliano was the model for Mars in Botticelli's Venus and Mars. in London's National Gallery.
Loenzo did famously invite Ghirlandaio to send him two promising artists to train in the Medici gardens, and one was the precocious young Michelangelo. The anecdote goes that Michelangelo had just carved the head of a grinning faun, which prompted Il Magnfico's comment that it wasn't accurate, because an old man, or an old faun, wouldn't have all his teeth. The teenage sculptor obligingly knocked out a couple; Lorenzo, amused, welcomed him into the Medici's humanist inner sanctum.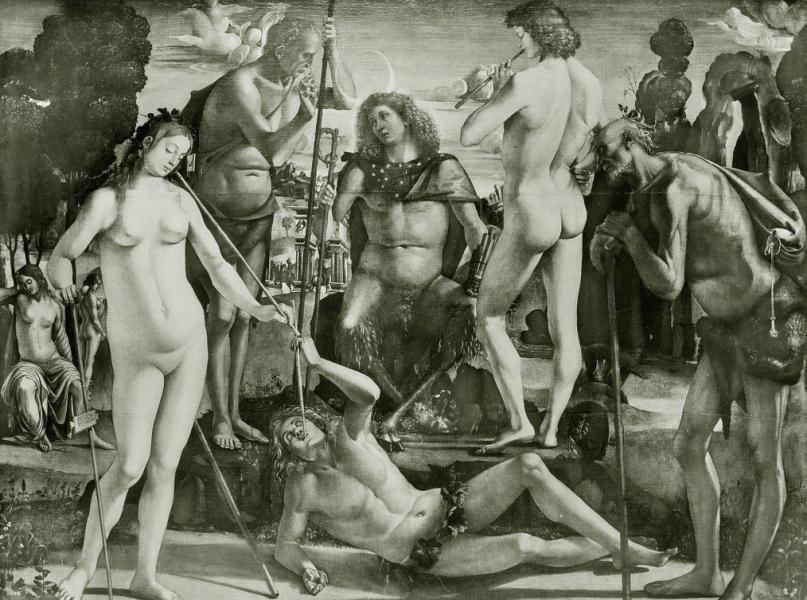 Perhaps because he was too near-sighted to see anything very clearly, Lorenzo did not ever commission an important canvas or fresco in Florence (except for Luca Signorelli's mysterious Education of Pan, lost in Berlin during the Second World War). His favourite architect was the hack Giuliano da Sangallo.
His own tastes tended towards bric-a-brac, jewellery, antique statues and vases, most of which have now been regulated to the Museo di Storia Naturale; there is little evidence that he really understood or could appreciate the scores of great artists around him.
But he loved poetry, and wrote some of the loveliest pastoral verses of the Renaissance, as well as his famous lines on the fleeting beauty of youth:
Quant' è bella giovinezza
Che si fugge tuttavia!
Chi vuol esser lieto, sia;
Di doman non c'è certezza.
(How fair is youth, and how fast it flies away! Let him will be merry, Of tomorrow nothing is certain).