kafes
καφές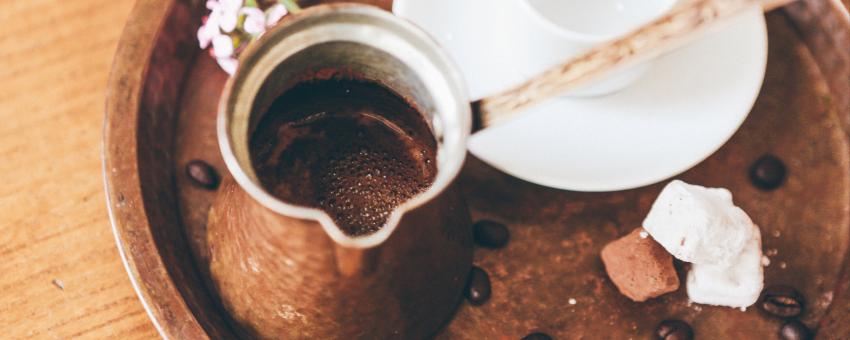 Coffee, of which there are innumerable kinds in Greece. Nearly all city cafés have Italian espresso machines, but in a small village kafenion they may not. Whatever you order, a coffee gives you the right to sit there all day.
Some of the kinds you can order
ελλινικόσ (elliniko): classic Greek coffee served in a demitasse, made in a long-handled pot called at μπρίκι (briki), which stirred slowly until brought to a foaming boil. The more foam the better. Village wise women can read your future in the muddy grounds left at the bottom of the cup.
έναν δίπλο ελληνικό (enan diplo elliniko): double size Greek coffee
εσπρέσο espresso; εσπρέσο φρέντο (espresso freddo, on ice)
φραππέ (frappé): ice coffee
γαλλικός καφές (gallikos kafes): French press
γλυκήβραστος (glykovrastos): sweet boiled coffee, made in a briki, but brought to a boil three times before it starts to foam by lifting it off the heat.
καφέ φίλτρου (kafe filtro): filter coffee
καφές με γάλα (kafes me gala): white coffee
καπουτσίνο: cappuccino (καπουτσίνο φρέντο cappuccino freddo: on ice)
νες (nes): instant coffee (short for Nescafé)
ντεκαφεϊνέ (dekafeiné): decaffeinated
πακέτα καφές (paketa kafes): take-away coffee
Whichever kind you order, you'll be asked how sweet:
βαρύ γλυκός (vari glyko): very sweet
γλυκός (glykos): sweet
μέτριος (metrios): average
λίγο ζάχαρη (ligo zachari): a little sugar
σκέτος (sketos): no sugar