patata
πατάτα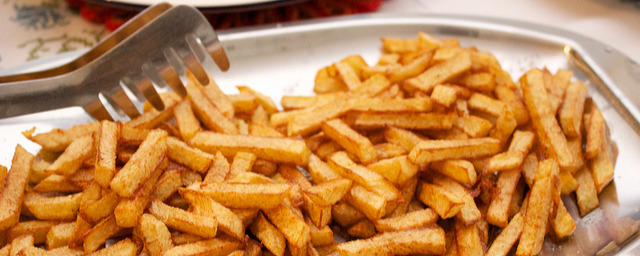 Potato. A staple across the land.
βραστές πατάτες (vrastes patates): boiled potatoes
οφτή πατάτα (ofti patata): baked potato
πατατάκι (patataki): potato crisp (or chip). Sometimes τσιπς (chips)
πατατοσαλάτα (patatosalata): potato salad with olive oil, finely sliced onions, mayonnaise, lemon juice or vinegar.
πατάτες ψητές στον φούρνο (patates psites sto fourno): roast potatoes, often flavoured with lemon juice, olive oil, lemon, garlic and oregano; also known as πατάτες ριγανάτες (patates riganates) or πατάτες λαδορίγανη (patates ladorigani).
πατάτες ογκρατέν (patates ograten): au gratin
πατατούλας (patatoulas): fond name for potatoes; in a taverna they will be fried
πουρές (poures): puréed or mashed
τηγανητές πατάτες (tiganites patates): fries or tsips. The very best are fried golden in olive oil and sprinkled with oregano.
ψητή πατάτα (psiti patata): baked potato
ψητή πατάτα με τη φλούδα (psiti patata me ti flouda): jacket potato