elies
ελιές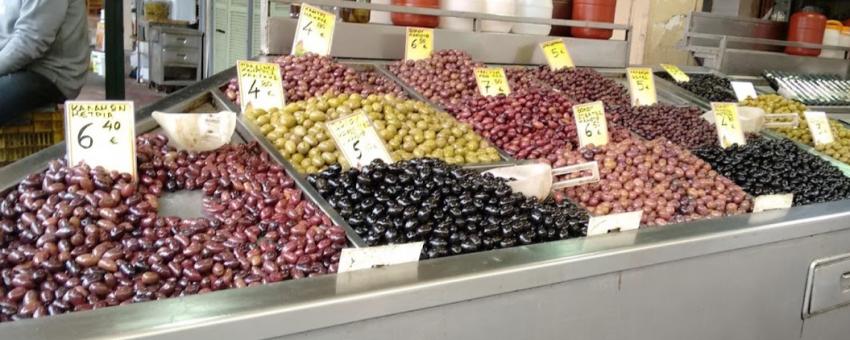 Olives (Olea europaea).
The fruit and the tree are the basis not only of Greek cuisine but Greek life, the symbol of peace and prosperity (although in Greek history the latter two have often proved elusive). In myth, the sea good Poseidon tried to lay claim to Attica by smashing his trident into the Acropolis and bringing forth a spring. Athena then peacefully planted the first olive tree next to the spring. The gods judged hers the better gift, and hence 'Athens'.
No one knows when people in the Mediterranean began to cultivate olives. The oldest-known fossils of the trees, dating back to 38,000 BC were found on Santorini. By the early Bronze Age (c.3000 BC) the Minoans were selling their olive oil around the Mediterranean. It's a mystery who realized that olives, which are naturally very bitter, were edible if cured (when archaeologist Nikolaos Platon excavated the ancient Minoan palace of Zakros on Crete's east coast, he found olives at the bottom of a well, and they tasted pretty good). Later Greek colonists brought olive trees to Southern Italy and France. One reason why southern Greece is so rocky and barren is that ancient forests were cleared for olive plantations--and olive trees aren't the best in holding in top soil.
The Romans latinized elia into oliva, the source of both the English words for olive and oil; ladi in Greek, is always presumed to be olive oil (unless otherwise stated). Some of the trees are so old they looks as if Athena herself had planted them.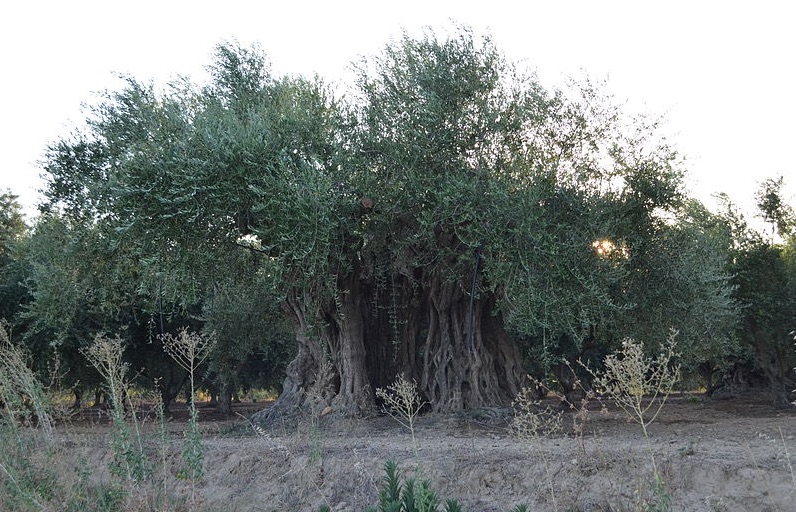 Very ancient olive tree in the village of Elia, in Lakonia
Several varieties are grown across Greece:
Κονσερβολιά (Conservoλιa common table olive; Amfissis and Agriniou are two of the finest versions.
Δαμασκηροελίες (Damaskiroelies) Also known as 'plum olives': large olives that are said to be a revival of Mycenaean olives, that are baked like prunes or left to ferment in brine.
Ελιές Πράσινες Χαλκιδικής (Elies Prasines Chalkidikis). Large green olives from Chalkidiki, usually cured in brine. Their size makes them the best for stuffing (usually with feta, almonds, sun-dried tomatoes or red peppers).
Ελιές Καλαμών (Elias kalamon) Kalamata olives. Gleaming dark purple, there are the most famous and widely exported, the classic olive in a choriatikα salata. They grow in the broad Messinia valley just north of the city of Kalamata and have been designated DOP [POP]. Ones picked early have a reddish colour.
Κολοβή (Kolovi): Also known as Μυτιληνιά Mytilinia. Lesvos is covered with olive groves, and 70% are this local variety that are not fussy and yield a delicious aromatic oil.
Κορωνείκη (Koroneiki) also known as elitses (ελίτσες) Tiny sweet and fruity black or brown olives from Crete with large pits, the best for pressing into oil.
Λιανολιά (Lianolia): Also known as Λιανολιά Κερκύρας Lianolia Kerkyras) The exceptionally tall (up to 18m) trees that cover much of Corfu, first planted under the Venetians 500 years ago are the main olives of the Ionian islands. Traditional harvested late, innovative farmers have started picking the olives in October for a wonderful award winning green oil
Μεγαρίτικη (Megaritiki): Widely grown black and green olives from Attica named after the city of Megara) that can be a table or oil olive.
Θρούμπες (Throubes): naturally black wrinkly ones that mature on the trees and can be eaten as they are, without curing, although many are dried. The island of Thassos is famous for them.
Other olive words:
ελιές ανάμεικτες (elies anameiktes) vacuum packed
κουκούτσι ελιάς (koukoutsi elias) olive pit; χωρίς κουκούτσι (choris koukoutsi) pitted
ελιές τσακιστές tsakistes green olives 'cracked' but not broken then marinated with a lot of garlic, popular on Cyprus