selino
σέλινο

Celery, which in Greece can mean wild celery (which looks more like parsley) or western cultivated celery. The wild kind enjoys a starring role in the classic χοιρινό με σέλινο (chirino me selino) stewed pork and celery dish.
Wild celery had a rather important role in ancient Greece. In mythology, it was associated with the underworld, having been created from the blood of Kadmilos, the father of the Cabreiri, the gods of the Underworld worshipped on Samothraki. Homer mentions it growing around Troy, and victors at the Nemean Games, one of the four great Panhellenic Games of ancient Greece, were crowned with wreaths of wild celery.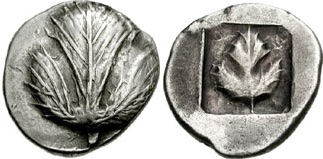 It gave its name to one of the largest Greek colonies in Sicily, Selinunte, which put celery leaves on its coins.