bira
μπίρα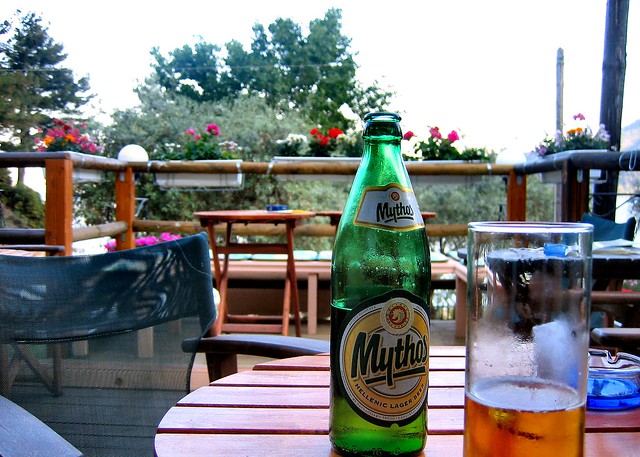 Beer, although the Greeks used to have their own word for it, ζύθος (zythos) which means 'boiled'. Even so, they never drank much of it until the late 19th century (see below), but since then have made up for it. You'll find Amstel and Heineken everywhere (ask for'mia prassini (μια πράσινη) 'a green one'), and Alfa (created in 1961, owned by Heineken, along with Mythos, a lager made in Thessaloniki, the first 'Greek' beer since the demise of old stalwart Fix, and now a subsidiary of Carlsberg.
The recent change in antiquated beer purity laws opened the doors to craft breweries, and now over 70 breweries operate across the country. Every city and many islands have at least one, and of course the beer always tastes better if it's local. Vergina made since 1998 in Komotini in Thrace is worth a mention because it's entirely Greek owned; their local malt suppliers now supply dozens of other small breweries around Greece and beyond.
Others to look out for are Nissos from Tinos; Septem from Evia; Volkan, made with honey from Santorini and kitron from Naxos, and filtered through Santorini's lava rock; Red Donkey, also from Santorini; Corfu Beer from Corfu and Voreia from Serres in Central Macedonia.
Beer and ale are used as in English, but you might also see:
βαρελίσια μπίρα (varelisia bira) draft beer
μπίρα χωρίς αλκοόλ (bira choris alkool) beer without alcohol
A Potted History of Greek Beer
The ancient Egyptians and Thracians made beer, and in the Odyssey, the palace of King Alcinoos of the Phaeacians (generally identified as Corfu) was filled with 'wine' made from barley. Hippocrates the father of medicine even said it was good for you. Perhaps the ancient Greeks never made beer because they could make their barley into bread, but couldn't do much with grapes besides turn them into wine. Others say it's because drinking beer separated 'barbarians' (ie. anyone who wasn't Greek) from the wine drinking Hellenes.
When the Bavarian prince Otto was chosen to be the first king of modern Greece in 1833, he was appalled to learn that the country had no breweries, so he brought along Bavarian brewers. By 1840 they were producing enough beer to satisfy thirsty officials and soldiers. Others brewers quickly followed. The most enterprising was a certain Ioannis Fix (Johann Fuchs) who arrived in 1850 and worked as an apprentice in Melcher's brewery. In 1866 he bought it and renamed it FIX, which for decades was the Greek beer, having practically a monopoly until 1965, when Dutch were allowed in and opened Amstel Hellas.
What really led to Fix's downfall, however, is that people stopped drinking in protest during the dark days of the military junta (1967-74), when the minister of defense, Garoufalias, married into the Fix family, and the beer became associated with the unpopular regime. The large FIX brewery built in 1893 on Leoforos Syngrou closed in 1983 (and is now the National Museum of Contemporary Art). But in 2009, Fix beer was revived by new owners and is now widely available.