retsina
ρετσίνα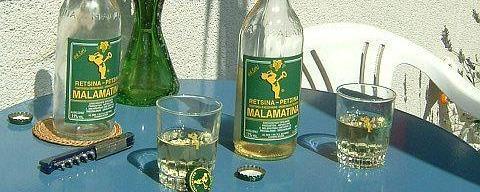 Greece's love-it or hate-it resinated wine, made in Attica, Evia and Boeotia using Savatiano grapes, along with lesser amounts of Assyrtiko and Rhoditis, flavoured with the sap of the Aleppo pine. It's designated PDO (ΠΟΠ) in both Greece and Cyprus.
Retsina actually pairs well with many traditional Greek dishes (before olive oil became THE thing, tourists were advised to drink it as it made the oil easier to digest). It has to be drunk very cold, in glass tumblers, and is generally best from the barrel, ρετσίνα βαρελίσιο (retsina varelisio), served in chilled copper-anodized cans that help to keep it cold. Sadly this becoming harder and harder to find as many young people don't like it very much. There are good bottled brands, though, including Kourtaki and Malamatina, which claims to be the key to good digestion, or at least that must be what the label with a key in the gut of a guzzler must be trying to convey.
A Little Retsina History
In Roman times resinated wine was widespread across the Mediterranean, as resin was used to seal the mouths of amphorae before they were shipped out. As France didn't have the Aleppo pines and the right kind of resin, they began to make wooden barrels, which by the 3rd century AD took over as the go-to container for wine– except in the eastern Mediterranean, which didn't have the good French oak and where drinkers had developed a taste for resinated wines, that lingered in Greece to this day.