Greek Cuisine
A few generalities and links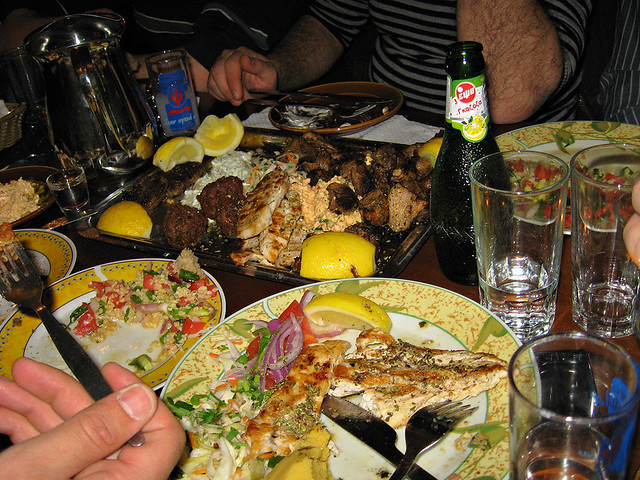 As a general rule, Greek cooking is very simple, relying on the country's fresh ingredients, its delicious olive oil, sun-ripened vegetables, fruit and herbs, free range meats and superb cheeses.
Greece has historically been a poor country, and was again when the economic crisis hit in 2009, prompting some Greeks to look into the past, and rediscover old ways of getting by. If there has been a silver linging to the crisis, it has been the growth of interest in artisanal, Slow Food-style enterprises, often begun by unemployed young Greeks who returned to ancestral villages and found new (old) ways of making a living.
Greece is a small, centralized country, of 11 million inhabitants (less than half the population of Shanghai!) so regional variations in ingredients and cooking styles aren't extreme, but it is fun to pinpoint where some dishes and cheeses come from, and what to look for if you go there. On Cyprus you'll find many of the same dishes as in Greece, as well as some recipes unique to the big island. I'm pretty sure I've missed many, so do let me know– apps are easy to update!
So because (or sometimes, in spite of!) the economic crisis, gastronomy has well and truly arrived in Greece. Cooking shows are big, and specialists shops, food and wine tours, and cooking classes are going strong.
One thing I haven't included are recipes, because I'm only a so-so cook and there are so many good ones already out there online in English and numerous cook books). Have a look at the websites and blogs of chefs (in alphabetical order)...
Aglaia Kremezi from Kea; Akis Petretzikis from Thessaloniki; Diane Kochilas from Ikaria and New York; Dimitris 'Caruso' Papazimouris and Sophie Williams from Kefalonia and Wales; Olive Tomato by Elena Paravantes from Chicago and Athens; Kospiaste by Ivy Liacopoulou from Cyprus and Nafplion; Greek-American Kiki Vagianos the Greek vegan; Eugenia of Eat Yourself Greek; Peter Minaki of Kalofagas based in Toronto, and Vassilis and Anastasia of Cookouvagia.
Also see The Greek Gastronomy Guide, which specializes in uncovering local ingredients and specialties across the country. The Wines of Greece is an excellent source, as are the numerous excellent foodie articles in the online magazine Greece Is.