melanzane
aubergine (eggplant)

The Arabs brought the first aubergines to Sicily, where they are still a staple, although it took centuries for them to become popular in the rest of Italy (they were despised as 'mela insana' and considered only fit for the poor). Today they're a vegetarian's best friend in Italy. One variety, the melanzana rossa di Rotonda, grown in Basilicata, looks more like a tomato.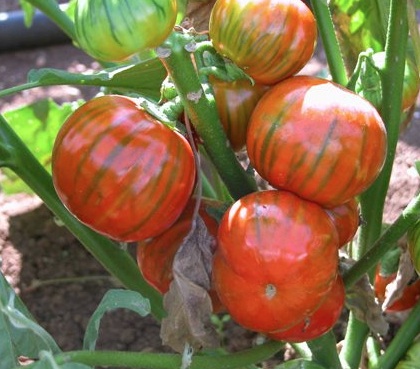 Some of the classic dishes:
involtini di melanzane: slices rolled around a filling of anchovy, ham and cheese, or whatever.
melanzane alla campagnola: sliced and grilled, then topped with garlic, basil, mint and olive oil (Puglia).
melanzane al funghetto: not with funghi (mushrooms) as you might guess, but a simple Neapolitan sauce with tomatoes and garlic, used as a side dish or on pasta.
melanzane alla siciliana or alla siracusana: caponata.
melanzane al cioccolato: a remarkable dessert from the Amalfi coast, alternating layers of aubergine, chocolate and ricotta, with candied orange peel and almonds (recipe here).
melanzane ripiene: stuffed (usually with cheese, though melanzane ripiene alla calabrese uses ground meat, rice and cheese).
melanzane a scarpone: half a hollowed-out aubergine, stuffed with cheese and tomato, baked or fried in breadcrumbs (Naples).
parmigiana di melanzane: the Sicilian (or Neapolitan) classic of aubergines fried, then baked with parmesan cheese and tomato sauce.
pasta alla Norma: with aubergine, tomato, basil and ricotta salata.
polpette di melanzana: 'meatballs' of aubergine and cheese fried in egg and flour.