radicchio
red chicory

The 'flower of winter', radicchio, radicio or Cicoria variegata has been cultivated since the 15th century, mainly in the Veneto region and Trentino. Treviso, above all, has the right growing conditions: good soil, plenty of water, and the right climate, and conditions for imbianchimento (the radicchio is dug up and kept in water in the dark, to keep it from turning green).
Radicchio di Treviso can be eaten raw in a salad by itself or its bitterness contrasted with nuts, pears, or grapes. You can find it in a risotto, or even on a pizza. A traditional Venetian dish, radici e fasioi is made with raw chicory and hot mashed beans.
There are several kinds: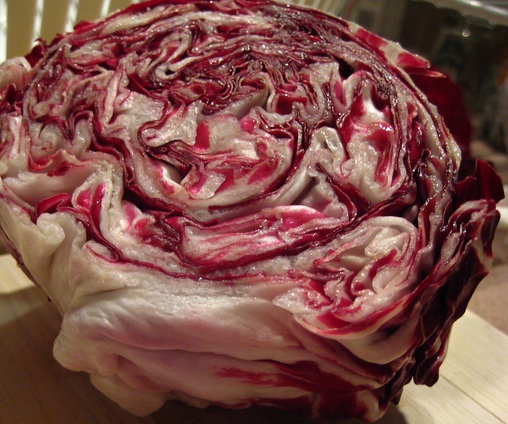 radicchio di Chioggia: round and dense, more popular in North America than in Italy
radicchio rosso di Treviso: bud-shaped, resembling a red Belgian endive. Has IGP status (Indicazione Geografica Protetta). The locals regard it as an aphrodisiac; a local bartender at the Hostaria al Cavallino has even come up with a cocktail called the Fogliarossa made with fizzy wine and an infusion of radicchio, the perfect accompaniment to tiramisù.
radiccho tardivo di Treviso: also grown around Treviso, 'late' radicchio resembles wine and cream coloured flowers. Also has IGP.
radicchio di Castelfranco: Castelfranco in the Veneto was the birthplace of the great Renaissance painter Giorgione, and of white radicchio, a beautiful salad vegetable known as the 'Edible Flower', available only from November to March. Also IGP and Ark of Taste.
radicchietti: baby radicchio (also known as cicorini or verdolini), one of the first salad greens ripe in the late winter/early spring.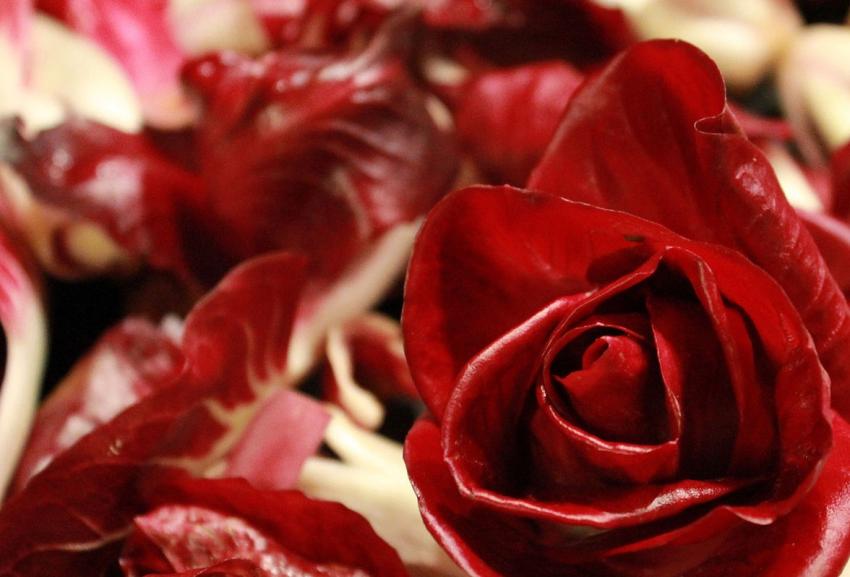 rosa di Gorizia: beautiful dark red version that only grows near Gorizia and in Slovenia just across the border in the winter. Radicchio canarino also from Gorizia, resembles a pale green rose
lidric cul argjel (Radicchio seasoned with lard) One of the more unusual dishes from the Julian Alps. Lidric (or lidrìc) cul poc is the name for a wild , somewhat bitter radicchio that grows on the Friulian plain.
There are a number of radicchio festivals and exhibitions (mostra) in the Treviso area, running from November to March.