aceto/aceto balsamico
vinegar, and a very special vinegar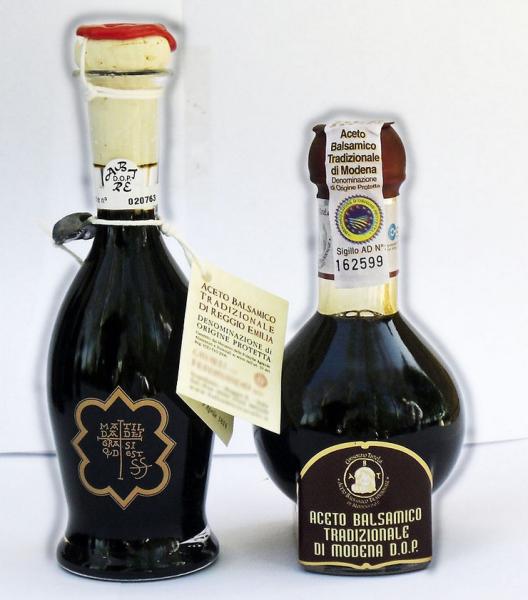 Aceto (or acitu in Sicily) is simply vinegar. Pickled vegetables are sott' aceto, literally prepared 'under vinegar'. Of course vinegar can be made from many things. In Italy it's usually wine, white or red, though there's also vinegar from apples or pears, and some exotic imports, as well as vinegars flavoured with raspberries or blueberries. Aceto di miele is vinegar made from honey.
Aceto balsamico is another beast all together. Distilled from sweet Trebbiano (or sometimes Lambrusco) grapes, rich dark balsamic vinegar was as valuable as frankincense in the Middle Ages. It's the most famous speciality of Modena or "Mink City", but also of its neighbour Reggio-Emilia. In both, the real McCoy is D.O.P.(Denominazione d'origine protetta) Aceto Balsamico Tradizionale (ABT), sold in distinctive bottles.
What makes it so special (and so expensive?) After harvest, the grape juice (must or mosto) is cooked over an open fire. After receiving a precious dose of the vinegar "mother", (it's the only ingredient allowed to be added), twelve years minimum of diligently pouring it from one barrel to another follow (chestnut for colour and acidic qualities; cherry for colour; oak for low evaporation; juniper or mulberry for spiciness) beore it achieves a delicate taste between sweet and sour and passes the test of five tasters. The most expensive is aged 15 years (argento or silver) or the ultimate, the 25-year old minimum extra-vecchio oro, or gold, which is often drizzled on desserts. A tiny 3 oz bottle can cost up to $100.
And the inexpensive stuff you buy in the supermarket? Although it can say "di Modena" on the label, it's made of wine vinegar, sugar, water, conservatives, caramel and other flavourings.