pomodoro
tomato

Although it's hard to imagine Italian cuisine without them, tomatoes didn't arrive in Italy until 1596. There are two possible explanations for their curious name in Italian (pomodoro means 'golden apple'); one is that in the 16th century, a round red fruit would, by the definitions of the day, be called a golden apple. The second is that tomatillos, which turn golden and are also members of the nightshade family, were introduced at the same time as tomatoes. Tomatillos never caught on in Italy, but the name stuck for their cousins that did.
Because of their poisonous nightshade kin, tomatoes (like potatoes, peppers and aubergines) were not an immediate success. They first caught on around Parma, and only later in the south, notably in Naples (chef Vincenzo Corrado is recorded experimenting with them in the 1770s for the Bourbon court). And it was in Naples where their special Italian destiny as a pizza sauce and as pasta al pomodoro would be realized in the Cucina Casareccia in Dialetto Napoletano (Home Cooking in Neapolitan Dialect) by Ippolito Cavalcanti, Duke of Buonvicino, published in 1839.
The South produces most of the tomatoes grown commercially in Italy today. Among the most notable varieties are:
pomodorino di Corbara (or simply Corbarì): cherry tomatoes grown on the slopes of the Monti Lattari, on the Sorrentine peninsula of Campania. Often sold in whole in jars in tomato juice.
pomodoro di Belmonte: the town of Belmonte in Calabria is famous for enjoying the perfect climate for tomatoes; the classic ones are red and green and heart shaped, good for salads. Ark of Taste.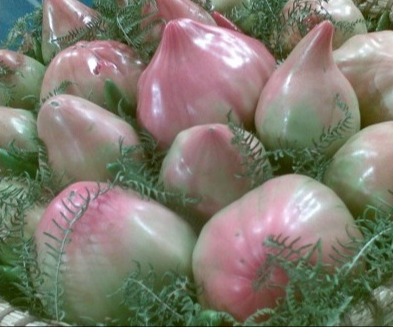 pomodoro costoluto di Rotonda: big irregular ridged tomatoes, weighing up to a kilo each, from the Basilicata. Ark of Taste.
pomodoro costoluto fiorentino: ridged, heirloom tomatoes; also known as pomodoro riccio. Tasty both fresh or in sauces.
pomodoro datterino: elongated cherry tomato with an intense taste, grown in date-like clusters.
pomodoro fiaschetto di Torre Guaceto: little elongated tomatoes from Puglia, with a tiny characteristic 'nipple' at the end. Good in passato; Ark of Taste.
pomodorino di Manduria: cherry tomatoes from Puglia.
pomodoro di Pachino, or pendolino: round and bright in colour, grown with IGP status in Sicily.
pomodoro regina di Torre Canne: Grown on the Salentine peninsula—the heel of Italy—these tasty small tomatoes are tied with cotton strings into giant clusters to help preserve them; traditionally cotton plants were planted in between the tomato rows. Ark of Taste.
pomodoro riccio: same as pomodoro costoluto fiorentino (see above).
pomodoro di San Marzano: elongated, from which the more common roma variety descends, is the famous tomato from Campania and said to be the best for all sauces, although grown outside of Italy it never tastes as good. It came as a present to the King of Naples from the Viceroy of Peru, and now it has DOP status in Campania and is the Ark of Taste.
pomodoro sorrentino: big salad tomatoes grown all along the Sorrentine peninsula, related to beef heart. Ark of Taste.
pomodoro vesuviano (or pomodorino del piennolo del Vesuvio): special cherry tomatoes from the slopes of Vesuvius that grow in clusters like grapes. DOP and Ark of Taste.
Also:
ciliegino: any cherry tomato.
cuore di bue (beef heart) is an import from the US, and mostly planted in home gardens.
According to the Consorzio Il Pomodoro Italiano, there are another 300 or so varieties, but few ever make it to market.