carciofo
artichoke

Artichokes have been known in Sicily at least since Greek times; they are native to the central Mediterranean. Italy is by far the world's leading producer.
One of the classic dishes of Rome (using the Romesco variety, grown near the Lazio coast) is carciofi alla giudia or artichokes deep fried 'Jewish style', the speciality of several trattorie in Rome's Ghetto. When done correctly, their leaves are delightfully crunchy.
Other versions include another central Italian favourite, carciofi alla romana ( cooked in broth with mint and garlic), carciofi alla milanese, with butter and cheese, or carciofi en tegame, stewed with breadcrumbs, garlic, parsley and pancetta. Carciofi alla sarda are stuffed with ricotta and pecorino with a bit of lemon and garlic; Sicily's carciofi ripieni are filled with sausage, sardines and cheese before being baked in the oven. Artichoke hearts are often baked in pies, as in Genoa's torta pasqualina.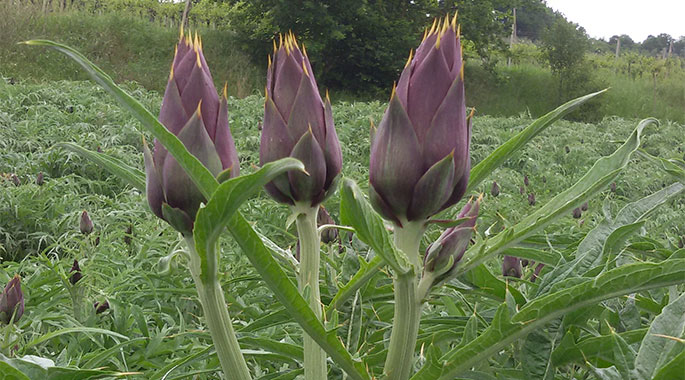 Tiny narrow purplish red ones from Brisighella in Emilia-Romagna (see above) are called carciofo moretto.
Carciofini are commonly preserved sott'olio for antipasti, or marinated (carciofini trifolati, with garlic, parsley and oil), or stuffed, or stewed with lamb.
Four kinds of artichokes are aboard the Ark of Taste:
Carciofo Bianco di Perinaldo (Liguria). Similar to the artichokes of Provence, and said to have been introduced by Napoleon.
Carciofo Masedu (Sardinia), a close relative to the wild thistle.
Carciofo violetto di Castellammare (Campania), the big purple artichokes from around Naples
Carciofo violetto di Sant'Erasmo, from the island of the same name in the Venetian lagoon.
In April, Sezze (Lazio) holds a lively Sagra del Carciofo.