insalata
salad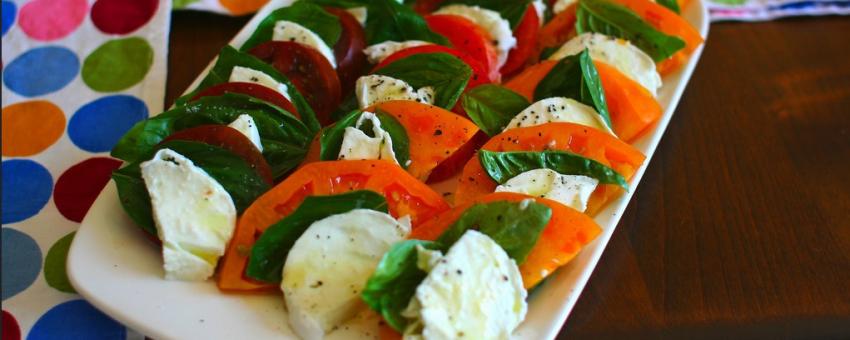 As in other lands, it could contain just about anything. Some of the most common are:
insalata alla russa: 'Russian salad' with cooked vegetables, eggs and mayonnaise.
insalata caprese: tomato, basil and mozzarella, 'in the style of Capri'. A favourite antipasto
insalata capricciosa: like a Russian salad, only with raw julienned vegetables and other ingredients; many different recipes
insalata mista: mixed salad
insalata nizzarda: salade niçoise
insalata pantesca: boiled new potatoes, tomatoes, olives, capers, and red onion in olive oil and vinegar. From the Sicilian island of Pantelleria
insalata di rinforza: with lots of goodies
insalata di riso: rice salad
insalata tiepida del contadino: a meaty salad of veal, pancetta, animelle, with endives, served on rye crostini (Trentino)
insalata tricolore: tomato, avocado and mozzarella
insalata verde: lettuce salad
insalata viennese: will always have vienna sausage (würstel) and cucumbers, maybe potatoes, other vegetables, eggs, mayonnaise and just about anything else.
pinzimonio: raw vegetable salad (also known as cazzimperio or cacimperio).