mela
apple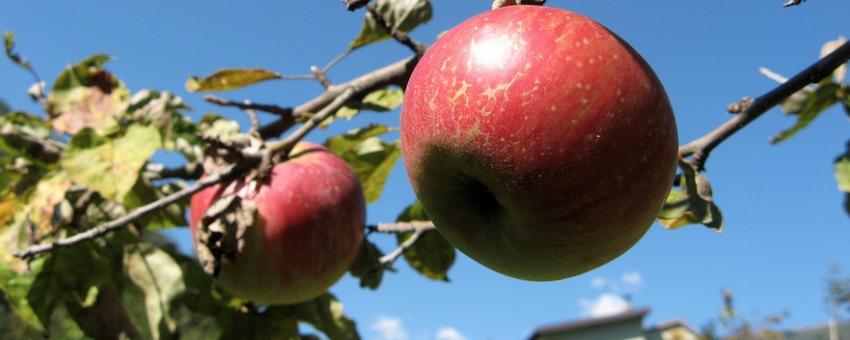 Among the many apple names, Italy can boast quite a few of its own varieties:
mela annurca, or orcate, from Campania, is the best-known southern variety. Unusually, it is dried in the sun for 10-15 days on beds of straw.
Mele annurche are pictured in Roman wall frescoes from Herculaneum, and now they are DOP.
mela appiola: small, tart, part red and part green.
mela campanina: small tart and green cooking apple from the Po valley. Used for making mostarda di Mantova.
mela cotogne: quince.
mela pera: nashi.
mela renetta: tart apple grown in Trentino (russet).
mela rosa dei sibellini: tasty but small, a traditional variety from the central Apennine slopes. It almost died out completely, though now it is reviving as a Slow Food item.
Others in the Ark of Taste:
mela buras: yellow green apple from the Val Varaita in Piedmont, good for eating and baking.
mela calvilla bianca e rossa: another excellent Piedmontese apple, fragrant and good for baking, grown in the provinces of Torino and Cuneo.
mela carla and mela carla di Finale: from Liguria, green with red splotches.
mela commercio: yellow and pink apple introduced from America in the mid 19th century, growing in Romagna.
mela Dominici: big yellow, green and red apple of Umbria, first cultivated by a man named Dominici.
mela Francesca: pale green apples cultivated around Arezzo in Tuscany.
mela renetta grigia di Torriana: another apple from Cuneo province, yellowish grey and especially adapted to cooking.
mela limoncella: recently revived little green apple with a lemony aftertaste, grown around Sant'Agata sui due Golfi near Sorrento.
mela Magnana: a historic little apple from Piedmont, with an exceptionally long conservation period, named after its town of origin.
mela Roncallina: small asymmetrical apple from the entroterra, inland from Genoa.
mela rosa Mantovana: green-red apple cultivated since the 16th century.
mela Runsè: perfumed red table apple from Piedmont.
mela Teresa: misshapen little apple from Genoa's entroterra, redeemed by an exceptional taste.
mela Zeuca: big tasty apple from the Zeuca valley in Friuli; also known as a good keeper.