elisir
elixir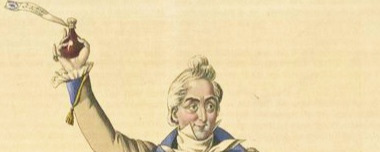 Donizetti's L'elisir d'amore may be the most famous of Italian elixirs, and to this day you can still purchase love potions in some of Italy's historic pharmacies, as well as others that promise to cure what ails you.
Most elixirs today are similar to amari, made with herbs and flowers according to secret recipes, such as the strong herbal Elisir del prete made in Pinerolo, Piedmont, and Elisir d'erbe Barathier (or Amaro Cozie) made in Pomaretto, made with herbs, caramelized sugar and herbs. Both are designated PAT.
Elisir Bordiga is the name of a Piedmont-based company that makes several low alcohol elixirs, with rhubarb, elder flower, black cherry, camomile, or violets, often used in cocktails.
Elisir di China is made by the Dominicans, along with with an Elisier Stomatico for stomach ailments and the Elisir di Edimburgo, based on a recipe brought in the 17th century to Florence by a monk from Edinburgh.
Elisir Gambrinus made in the Veneto along the banks of the Piave was invented in 1847 by an innkeeper named Giacomo Zanotto, adding 21 different herbs to the local fortified red Raboso wine, then ageing it for five years in oak barrels.
Elixir de Garrus made in France is also made in the neighboring Val di Susa as Garus Susino, infused with myrrh, cloves, nutmeg, cinnamon, orange flower water and saffron—ingredients introduced by pilgrims and merchants in the Middle Ages, and made in the Susa valley since 1800.
Elisir dei Trulli: Made by the Fiume company in Puglia is a rich liqueur flavoured with chocolate, rum, hazelnuts and coffee, that goes well with desserts (you can pour some ice cream) or in coffee.
Elisir Novasalus Vino Amaro: Said to be the most bitter of bitter amari, made with a dry Marsala from Sicily infused with herbs, roots, flowers and a touch of tree sap, also from Sicily. Made in the Alto Adige.