risotto
Italy's favourite rice dish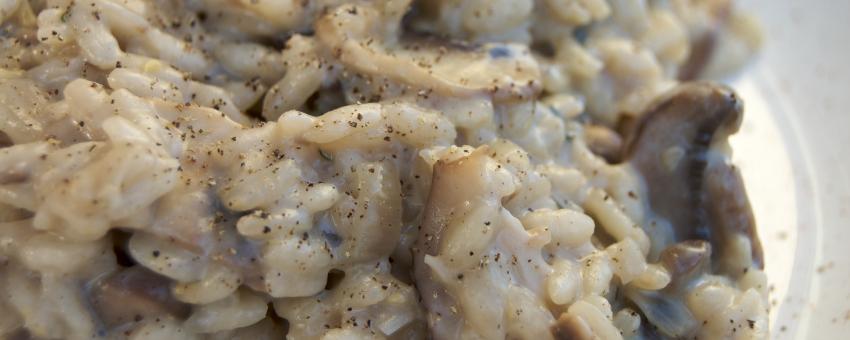 Risotto is a place where Italian cooks can follow their fancy, using a short-grain riso such as arborio, vialone nano or carnaroli.
There are a number of classic versions: risotto Milanese is yellow with saffron and parmesan. In Venice, the favourite risotto comes with peas, risi e bisi and made a bit soupier than most, or all'onda ('with waves'). Mushrooms are a favourite (risotto ai funghi) and seafood (risotto marinara or risotto al pescatore).
Then are meaty versions. Risotto alla sbirraglia has a whole chicken in it; they say it was first made for the cops (sbirri) in Genoa. In Brescia they make a similar riso alla pitocca. Many recipes call for sausage or salame; risotto alla pilota, with sausage and butter, was a favourite of the rice workers themselves (who were called piloti just like the wooden piles that support Venice in the lagoon).
Other recipes have cheese, speck, radicchio, chicken livers, leeks, smoked salmon, or whatever you like. Note that dishes made with spelt (farro) or barley can also be called a 'risotto'.
More risotti:
risotto all' Amarone: a very red rice dish of Verona made with onions, butter, broth and Amarone
riso arrosto: sautéed with onions, sausage meat, offal, artichokes, peas, and mushrooms, and baked in the oven Riso a o forno a zeneize or riso al forno alla genovese
risotto al Barolo: made with red wine and beef or sausage (Piedmont).
risotto alla certosina: rice with onions, leeks, peas and tomatoes, served with frog's legs, crayfish, perch and mushrooms (Lombardy).
risotto bianco: cooked in white wine and water rather than in stock.
risotto di branzin: with sea bass (Veneto).
risotto in cantina: with white wine, butter, Parmesan and onion.
risotto di cape: with shellfish (Veneto).
risotto alla gambolo: butter, olive oil, tomatoes, parsley and basil (Lombardy).
risotto alla genovese: a rich meaty risotto, made with beef, lardo, vegetables, herbs, and wine.
risotto di gò: with gò or ghiozze (goby, a small fresh water fish) (Veneto).
risotto alla marinara: with seafood, and usually tomatoes, garlic, parsley, and white wine.
risotto alla milanese: very creamy, in chicken stock, saffron and butter.
risotto alla monzese: with sausage meat, tomato, Parmesan and a splash of Barbera wine at the last minute.
risotto al nero di seppia: black risotto with cuttlefish and their ink.
risotto alla paesana: with borlotti beans, potatoes, pancetta and vegetables. A very similar risotto is called paniscia novarese.
risotto alla parmigiana: in a rich beef broth, with sausage, chicken livers, bacon, vegetables, mushrooms and herbs.
risotto pavese: made with borlotti beans, carrot, onions, garlic, olive oil, butter, tomatoes, grated cheese, celery, and white wine.
risotto alla piemontese: with butter and grated cheese, and white truffles—if you're lucky.
risotto alla pitocca: with chicken (Lombardy)
risotto primavera: with a mix of aspargus, spring onions, peas and baby broad beans, butter, white wine and cheese (Veneto)
risotto di secole: with beef scraps and onion (Veneto).
risotto con le telline: with clams and a tomato-pepper sauce (Viareggio).
risotto alla toscana: rice cooked in broth and tomato sauce, served with diced salame and grated cheese.
risotto alla trevigiana: with sautéed radicchio, onion, stock and sparkling wine.
risotto alla valdostana: very creamy, with Parmesan and fontina cheese.
risotto alla veronese: with ham, served in a mushroom sauce.
risotto de la Visilia: classic Christmas eve dish of the Veneto, made with gò, eels, borlotti beans, and Parmesan.
risotto di zucca: with bits of pumpkin