caglio
rennet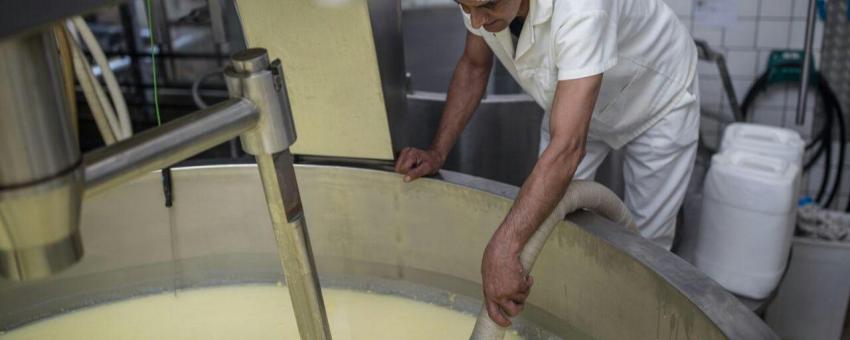 A ruminant's fourth stomach compartment is the abomasum, abomaso in Italian, also known as the rennet-bag, or reed tripe. Young animals use it to digest their mother's milk. Classic cheese-making uses the lining of the abomasum to get the enzyme-rich rennet or caglio that turns liquid milk into curds (cagliata) and whey, although increasingly the rennet used in cheese is from lab-created rennet, taking the DNA from animal rennet but growing it in yeast and is considered by many vegetarian friendly.
Some traditional soft cheeses such as casoperuto also use plant-based rennet, especially from cardoon thistle, artichoke, and other plants which yield a thickening enzyme after being soaked in water. It is less reliable than animal rennet and can effect the taste. Gran Natura specializes in a variety of cheeses made with plant-based rennet.
Su Caggittu de Crabittu, or Callu de Cabrettu or Caglio di Capretto made in Sardinia, is a strong pungently gamey cheese made in the stomach of a milk-fed kid; after the animal is slaughtered, the stomach is emptied and refilled with milk, then tied up and hung from a string in a cool airy place as the cheese is formed in for 15-20 days, and then it is smoked.
It may well be the oldest cheese in the world.
Text © Dana Facaros & Michael Pauls
Images by ILRI, Sardegna Agricoltura