garum
fish sauce, Roman style

In ancient times, Romans used umami-rich garum the way Americans use ketchup. Much like modern Asian fish sauce, garum was made from salted fermented fish guts, then shipped in special amphorae.
In the 5th-century BC, the Greeks had an early version of the sauce called garos, the origin of the Latin garum. Roman chefs loved it kept the moisture in dishes that were libel to dry out when salted. In the famous 1st-century AD cookery book, De re coquinaria ('On the Subject of Cooking') Marcus Gavius Apicius considered garum and other fish sauces as essential condiments.
There were all kinds, some cheap such as fishy paste residue called allec, that even the poorest could afford to flavour their mush, and luxury versions such as garum sociorum made of mackerel from Cartagena in Spain, which Pliny considered more fragrant than the finest perfumes. It also came in several varieties—infused with oil (oleagarum), pepper (garum piperatum), vinegar (oxygarum), or wine (oenogarum).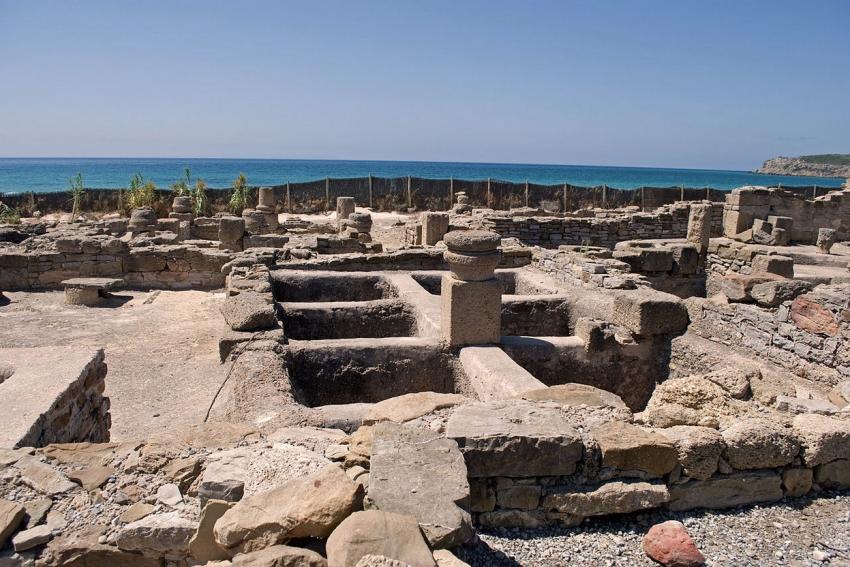 Ruins of a garum factory in Baelo Claudia in Spain
Garum was manufactured in salting tanks, side by side with salt fish works throughout the Roman empire, from the Middle East to Portugal; a number of archaeological sites have ruins of ancient garum factories—rows of tanks, often by the sea, but far (or at least sufficiently down wind) from the towns because of the pungent stench.
Recently, dregs of garum were found in an amphora in Pompeii, and modern chefs have reproduced it. Anchovy-based colatura is believed to be the closest descendant still produced today, in a small village on the Amalfi coast. Sardella has been compared to it as well.