Wine words
Know your vino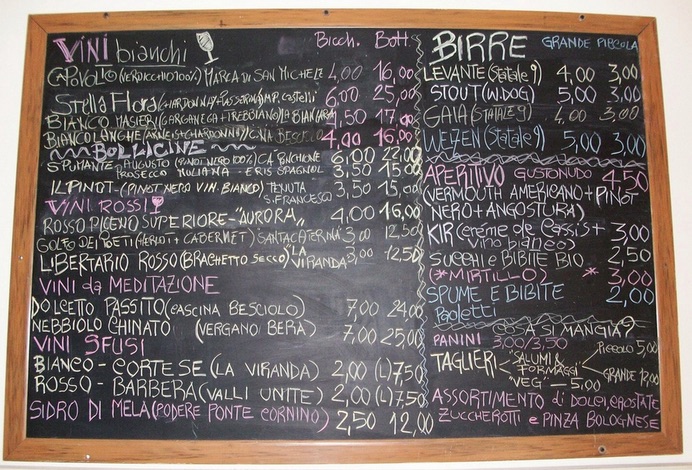 abbinare: to pair a wine or other ingredient with a dish; abbinato or abbinata is 'paired'
abbocato: very slightly sweet
acciaio (inossidabile): (stainless) steel
alcool, alcolico: alcohol, alcoholic
amabile: moderately sweet
ambra: amber
anidride carbonica: carbon dioxide
anidride solforosa: sulfur dioxide
annata: vintage
asciutto: very dry
azienda agricola: wine estate that grows grapes and produces its own wine
azienda vinicola: a wine company that buys most of its grapes from growers
barile: small wine barrel
bianco: white
bicchiere: glass
biodinamica: biodynamic
biologica: organic
bollicine: bubbly, ie champagne, prosecco, etc.
bottiglia: bottle
brindisi: a toast!
brut: dry (for sparkling wines)
calice: chalice, but often used for wine sold by the glass
cantina (sociale): cellar or winery (cooperative)
cavatappi: corkscrew
cerasuolo: cherry red
chiaretto: claret; a color on the border between a deep rosato and a light red
classico: classic, usually referring to a historic wine region or a traditional style of wine making
colle: hill, colline little hills
consorzio consortium, especially of wine producers in a specific region
corpo: body
degustazione: tasting
denominazione: denomination or appellation (the place name)
dolce: sweet
dorato: golden
enologo: winemaker
enoteca: wine shop
fiaschetteria: wine shop
fine: elegant and harmonious
fresco: fresh, crisp
frizzante: effervescent
fruttato: fruity
gentile: moderately bubbly. It means 'kind' in Italian, so it won't send massive of bubbles up your nose.
giallo: yellow
giovane: young
granato: garnet
imbottigliato: bottled
intenso: intense aroma or flavour
invecchiamento: the aging process
legno: wood
limpidezza: clarity
liquoroso: fortified
macerazione: maceration
millesimato: vintage dated
minerali: minerals
moscato: bubbly
muffa nobile: noble rot (botrytis)
novello: new; light red wine released soon after harvest
paglierino straw colored
passito: wine made using partially dried grapes
pieno: full-bodied
podere: farm; rural wine estate
provenienza: place of origin
quercia: oak
Riserva: a wine of longer aging and usually higher quality than typical for the wine
robusto: full-bodied
rosato: rosé
rosso: red
rubino: ruby
secco: dry, as in wine, or dried mushrooms—funghi secchi
solfato: sulfate
spumante: very bubbly. Although Asti Spumante prefers to be known as just plain Asti these days, spumante is still used for any Italian sparkling wine. Others are Prosecco; Piedmont's sparkling wines (outside of Asti) are usually called moscato, while Emilia-Romagna is home to the fizzy red Lambrusco.
Superiore: Wines that have aged a certain amount of time (each DOC classification has its own rules) and naturally have more alcohol in them.
tannino: tannin (pl tannini)
tappo: cork; tappo a fungo mushroom cork (for sparkling wine); tappo a vite screw cap
tenuta estate
terreno: terrain or soil
tranquillo: still (not bubbly)
uva: grape
vecchio: old
vendemmia (tardiva): harvest (late)
vigneto: vineyard
vinificazione: wine making
vinaio: wine seller. In the old days, people would bring empty bottles to their vinaio, often a local lordling who would dispense both wine and olive oil from ground floor arched windows in his palazzo. You can still see traces of them here and there, although most have been bricked up.
vino della casa: house wine
vino fermo: wine without any fizz at all
vino da meditazione: term coined by Italian writer and connoisseur Luigi Veronelli, a wine meant to be one-on-one contemplative affair between the drinker and the wine. Vin santo is often considered one.
vino del paese: country wine
vino sfuso: loose wine
vino speziato: mulled wine
vino da tavola: table wine
vite: vine (plural viti)
vino visciolato (or vino di visciole): alcohol based on cherries, or red wine infused with cherries. A speciality of the Marche.