Bragadin
Venice's secular saint

In 1570, the Ottomans invaded Cyprus and laid siege to the rich city of Famagusta. Under Governor Marcantonio Bragadin, the Venetians and Greeks held out bravely for nearly a year. No relief was coming from Venice though, and in August 1571 honourable terms of surrender were negotiated. Bragadin and his fellow commanders went to the Turkish camp to deliver the keys of the city, with exchanges of every courtesy.
But the long siege in which the Turkish commander, Lala Mustafa lost over 50,000 men including his own son, seemed to turn him into a pathological sadist; after welcoming the Venetians and their allies, he suddenly turned on them, ordering all 350 to be hacked to pieces.
Even worse a fate awaited Bragadin: first relieved of his nose and ears, he endured two weeks of agonizing torture before the pasha ordered him to be stripped naked, tied to the public scaffold, and flayed alive. Bragadin bore even this in silence until he expired when his butchers reached his waist. His skin was then tanned, stuffed with straw and brought as a trophy to the Sultan in Constantinople. Titian's gruesome Flaying of Marsyas is thought be some scholars to have been inspired by the event.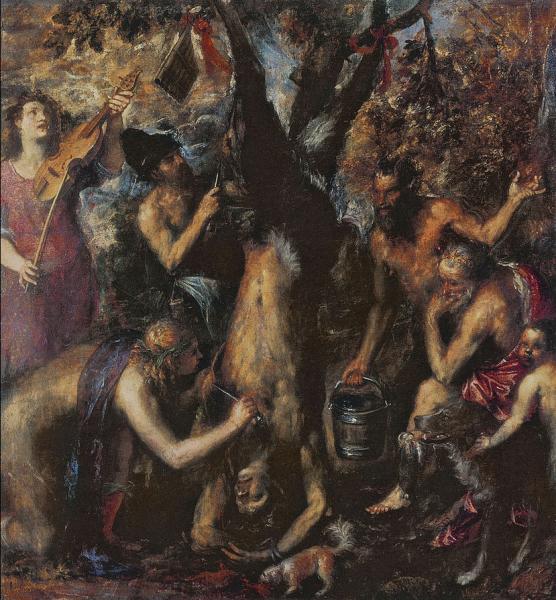 Nine years later (if you care to believe this typically Venetian posthumous happy ending) it was stolen by a Venetian prisoner of war and returned to Venice. Actually, it may even be true. Bragadin's memorial in Santi Giovanni e Paolo was set up in 1596, with a faded grisaille fresco depicting his martyrdom, and a bust, by a student of Vittoria, atop the urn that holds his neatly folded skin – its presence confirmed by a recent investigation sponsored by one of his descendants.
Bragadin did not die in vain. By holding up the Turks for so long, he gave the Venetians and their allies valuable time to build up their naval forces in the eastern Med—resulting in the smashing victory of the pan-European forces at Lepanto two months later, putting an end to Turkish dreams of ruling the seas.