Santo Stefano (San Stin)
Venice's most reconsecrated church
People come to busy Campo Santo Stefano for pistachio ice cream from the famous gelateria Paolin, and to see the early Gothic church of Santo Stefano (S. Stin), with its grandly florid Gothic door designed in 1442 by Bartolomeo Bon. San Stin has a couple of other distinctions as well: it's the only church built directly over a canal, and, more dubiously, it has had to be reconsecrated the most often – six times, because of the repeated murders that occurred within its walls.
The interior, however, is most serenely Gothic, with harmoniously patterned walls and wooden ship's-keel roof. On the wall by the door is the pretty equestrian Tomb of Giacomo Surian (d. 1493), decorated with skulls, garlands and griffins; a bombastic bronze seal in the middle of the nave marks the grave of Doge Francesco Morosini, conqueror of the Morea and bomber of the Parthenon in Athens (the Turks had stored their gunpowder there, thinking no one would bomb such a world-famous monument. They were wrong.)
The sacristy is rendered slightly claustrophobic by the large stretches of canvas on its walls, among them three late, shadowy Tintorettos: The Washing of the Feet, a Last Supper, composed at the extraordinary angle the artist favoured, and The Agony in the Garden. Off the left aisle a door leads into the cloister, now government offices, though still containing the Tomb of Doge Andrea Contarini (d. 1382).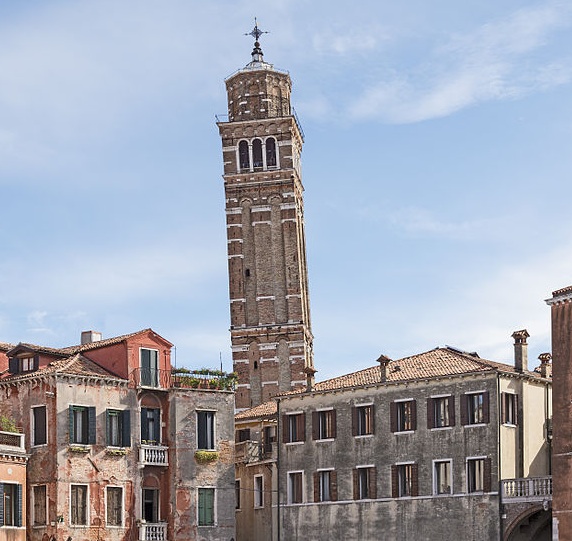 Less fortunate were the hundreds of victims of the plague of 1630, buried in trenches in Santo Stefano's graveyard (now Campiello Nuovo, off Calle del Pestrin facing the façade); for 200 years it was strictly off-limits. Santo Stefano's striking bell tower has a dangerous-looking lean, best viewed from Campo Sant'Angelo over the canal to the northeast.