Invasion of the Body Snatchers
The race for relics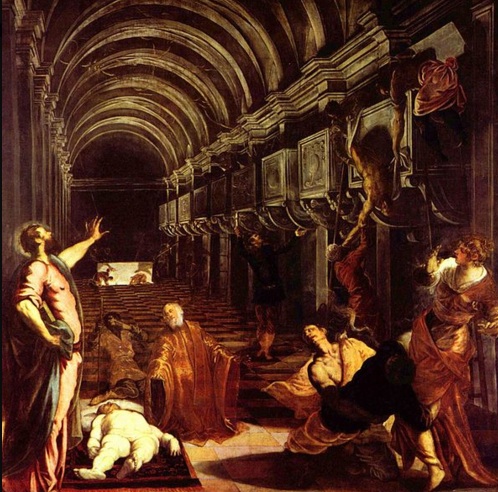 Long before sci-fi there were the Venetians, whose ghoulish mania for stealing the corpses of saints is one of the odder perversities that criss-cross their history. Of course they had nothing to do with the origins of the cult of relics: credit for that goes mostly to Pope Gregory the Great in the 6th century, who for the glory of the Church shamelessly exploited the superstitions of his age by putting the papal seal of respectability on the cult of relics, miracles and saints. Praying to or, better yet, owning a bit of a saint was like having a hot-line to him or her in Heaven.
For centuries mouldering bones and withered cadavers (some kept 'uncorrupted' with arsenic and wax) were the greatest status symbol a city could hope for, and competition for the ones deemed most influential was intense. A prime candidate for sainthood, like Catherine of Siena, would scarcely breathe her last before the relic-mongers started pulling apart her anatomy (Venice, a bit slow off the mark that time, only managed to come away with a foot).
But on the whole the Venetians were without parallel in this Hallowe'en treasure hunt; no other people went about it with so much freebooting enthusiasm or so much encouragement from the state. The reason isn't hard to seek: as a new, self-made city Venice needed relics to gain the respect of and outdo its rivals. It also needed all the ju-ju it could muster against the constant threat of plague.
By 1519, the Serenissima had snatched 55 intact saintly bodies and hundreds of smaller relics: a veritable 'cordon sanitaire of saints', as H.V. Morton called it, including some of Heaven's biggest celebrities: Saints Lucy, Zacharias, Helen, Isidore, John the Almsgiver, Donato and the proto-martyr Stephen, this last brought from Byzantium in 1105 and carried in state on the shoulder of the doge himself.
The most celebrated and valuable haul of all, though, was the first: the theft from Alexandria in 828 of the relics of St Mark, the Apostle of the Italians, a caper plotted down to the last detail. When the Apostle was lifted from his tomb, it is said, such a sweet smell spread over Alexandria that everyone knew 'Mark was stirring' and rushed to see his tomb, but the Venetians fooled them with a substitute body. They got their prize past Egyptian customs – as depicted on the mosaics of St Mark's – by hiding it in a barrel of pickled pork. As John Julius Norwich wrote "History records no more shameless example of body snatching..."
Nabbing the remains of St Roch (San Rocco), one of the key 'plague saints', was another coup. Before becoming a pile of desirable relics, Roch was a young nobleman of Montpellier who gave his fortune away to the poor, then made a pilgrimage to Rome. City after city he passed through was stricken by plague. He rendered what assistance he could to the sufferers he found, until on his way back home he himself was stricken with a horrid ulcer on his thigh. He retreated to a cave so that no one else had to hear his groans, while his faithful dog brought him food and licked his wound.
Roch recovered but was so changed by his sufferings that when he returned home, claiming to be Roch, he was arrested as a spy and thrown in prison. After languishing for five years he died. His gaolers found his cell flooded with light, and there was a note saying that he would help anyone stricken with plague who called upon his name. Some Venetians disguised as pilgrims stole his body from Montpellier in 1485, before he was even canonized.
There was even what was long considered a sham heist: the robbery in May 1087 of St Nicholas from Myra, in Anatolia. Word of Venice's intention to steal the relics had leaked to rival Bari, whose merchants beat the Venetians to the precious body (for Nicholas, better known in the West as Santa Claus, was the patron saint of sailors as well as of children).
But the Venetians didn't give up, and in 1099, one of their ships stopped at Myra en route to the First Crusade; by then Christians were lying low, and only held one service a month. Unable to flatter or threaten (or some say, torture) the four priestly caretakers into giving them any leftover relics, they broke in, stole the boxes containing the bones of SS. Theodore (Venice's original patron saint) and another Nicholas (uncle of the 'big' Nicholas), before noticing a sweet perfume rising from the floor; they dug down and found an urn of bone fragments inscribed: "Here lies the Great Bishop Nicholas, Glorious on Land and Sea."
When the relics were brought back to Venice, they were installed in the already existing church and monastery of St Nick on the Lido, initiating an argument that lasted nearly a thousand years over which city, Bari or Venice, had the real remains of St Nicholas: which recently had a rather surprising dénouement.
(The story is complicated by the fact that the saint was actually buried in an impressive, richly-decorated case. The Turks will be glad to show you Santa Claus's sarcophagus in the Archaeological Museum in Antalya, near Myra.)