Giambattista Piazzetta
Master of the monochrome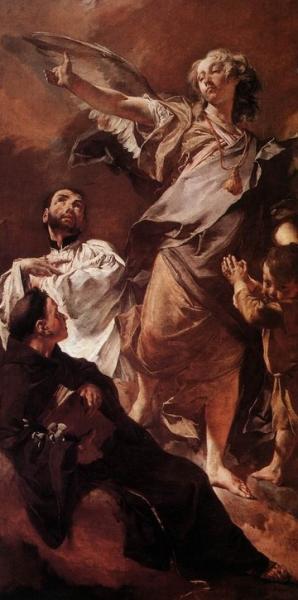 Venetian Giambattista Piazzetta (1683–1754) was the Venetian Rococo painter and draughtsman who marched to a different drummer. The son of sculptor Giacomo Piazzetta, he trained in his father's workshop (and carved some of the bookcases in the monastery library of SS. Giovanni e Paolo). Early on, however, he turned to the brush. At age 20 he visited Bologna, where he fell under the spell of Giuseppe Maria Crespi and Crespi's interest in painting the common people.
Unlike his contemporary Giambattista Tiepolo, who was famous for his radiant colours, spontaneity, and virtuoso decorative effects, Piazzetta specialized in religious and genre scenes, which he painted so slowly and meticulously that one visitor dubbed him a snail. Working in a limited, near monochrome palette, he sculpted figures in chiaroscuro. Most of all he loved to draw, and instead of the grand figures of myth and history preferred by Tiepolo, he left a series of portraits and half-figures of humble everyday Venetians, now spread in collections around the world.
The Accademia has one of his most famous (and most colourful) paintings, L'Indovina (The Fortune Teller). Also look for his work in Santa Maria della Fava, San Vidal and Santi Giovanni e Paolo.