Torcello
Venice's cradle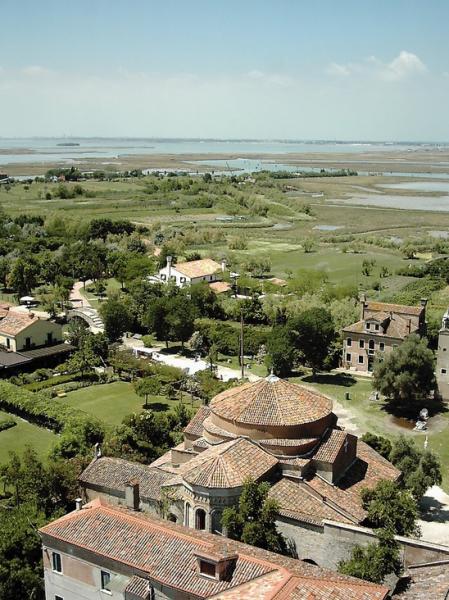 Of all the possible destinations hidden among the shadows and shallows of the Lagoon, this one is the real treasure.
At first the Torcello stop looks unpromising, a concrete pier and a wilderness beyond. But take the only path along a jungly canal that was once a busy urban fondamenta, pass the solitary old 'Devil's bridge', and you'll finally arrive at a piazza that contains two of the most remarkable churches in all Italy, the Basilica di Santa Maria Assunta and Santa Fosca, and very little else.
Torcello was the heir of ancient Altinum, and may have been settled by refugees from there as early as the 5th century. The big exodus to the island, however, came in 639.
According to the legend, the Altinese bishop, Paolo, was commanded in a vision to ascend Altinum's tallest tower. He saw certain stars rising over this lonely island, and led his people there to their new home, away from the barbaric Lombards who were making life just too expensive and too dangerous.
The new town of Venice on Torcello developed quickly, and for the first few centuries it seems to have been the real metropolis of the Lagoon. Its cathedral, Santa Maria Assunta, founded in 639, is the oldest building in the Lagoon and still one of the most impressive.
At its height, Torcello was said (probably with a modicum of medieval exaggeration) to have 20,000 inhabitants, and, even long after the relocation to the Rialto, Torcello continued as the commercial centre of Venice.
It was no war or other disaster but only the fickle Lagoon itself that ruined Torcello. The gradual silting up of the island's approaches doomed its trade, and also created malarial marshes. The population gradually drifted off to Venice proper. As they had done in Altinum a thousand years before, they came back for the building stone; after a few centuries' service as a quarry, Torcello today is nearly picked clean and has fewer than 20 inhabitants. Except for the piazza and churches in the centre it would be impossible to guess that this was ever anything more than overgrown farmland.
It does, however, have one of Venice's best known inns, the Locanda Cipriani, where Hemingway spent November 1948, writing the bittersweet, elegiac Across the River and Into the Trees, his last full length novel (and inspiration for E.B. White's famous piece in The New Yorker, Across the Street and into the Grill).