The Black Death
Venice in 1348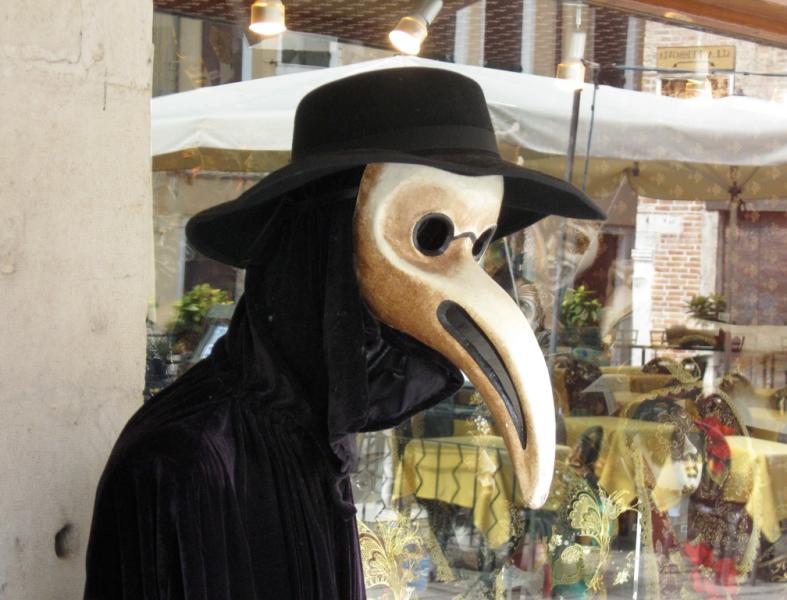 If you think times are bad now, have a look at the 14th century in Europe. Things were bad all over, but in Italy they were so rotten that historians speak of a collective death wish in the 1340s. Calamities of every kind befell the peninsula – earthquakes, floods and some of the worst weather on record; wars raged everywhere (Venice was locked in its death struggle with Genoa) and upheavals and disorder were a constant threat. Bankruptcies wrecked the economy; in 1346–7 the crops were so poor that thousands of people died of starvation. Even the wine went off. The Italians were exhausted, and resigned to disaster.
As if on cue, the worst epidemic of all, the Black Death, arrived on the scene in October 1347 – brought from the Crimea on Venetian galleys (though the Venetians blame it on the Genoese). As usual Venice suffered the most: as the densely populated chief port of entry from the East, the city had a dire record of 70 major epidemics in 700 years. No wonder the Venetians lived so intensely, when life itself was so precarious.
On 20 March 1348, Doge Andrea Dandolo set up a council to deal with the plague. The dead were taken on special barges to be buried at San Erasmo on the Lido and at a new cemetery at the long-lost San Marco Boccacalme, or simply sunk into the waters of the Lagoon. Beggars were forbidden to exhibit corpses (an old custom) to raise alms. Strict immigration controls were ordered, and all travellers were obliged to spend 40 days in quarantine at Nazarethum Island (its name, later elided to Lazzaretto, became widely used for all such places). All the measures were too late. At its worst the Black Death killed 600 Venetians a day; the total dead numbered an almost incredible 100,000 (about half the population).
Helpless against the epidemic, most doctors in Venice either died or fled in horror. There was one exception, a health officer named Francesco da Roma, who received an annuity of 25 gold ducats as a reward for remaining in Venice during the Black Death. When asked why he stayed when everyone else fled, he replied: 'I would rather die here than live anywhere else.'