Gondolas
Venice's most enduring symbol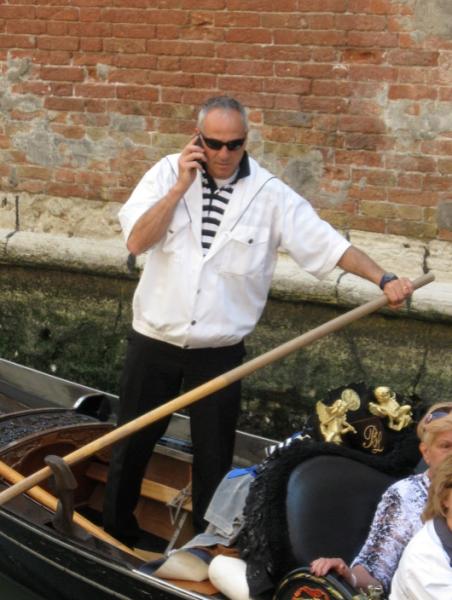 My gondola followed the course of the small canals; like the mysterious hands of a Genie leading me through the maze of this oriental city, they seemed as I advanced, to be carving a road for me through the heart of a crowded quarter that they clove asunder, barely dividing with a slender fissure, arbitarily carved, the tall houses with their tiny Moorish windows... Marcel Proust
The gondola, Venice's most enduring symbol, was first mentioned during the reign of Vitale Falier, way back in 1094. It took another five or six hundred years or so to evolve into its present form, perfectly adapted to Venice's unique environment of narrow, shallow canals that often intersect at right angles.
The modern gondola measures precisely 10.87m in length, and 1.42m maximum width. It is built out of eight different woods – fir, cherry, mahogany, larch, walnut, oak, lime and elm – that must be seasoned in the dockyard, or squero (a word believed to be derived from the Greek eskàrion for shipyard). These are family-run, with know-how passed down through the generations; from start to finish, the whole carefully hand-crafted process to make a gondola takes 500 hours. No single line in it is straight; the curves are made through a complex torch and water process involving flaming bundles of marsh reeds. After that coat after coat of waterproof varnishes are applied, each squero using their own secret recipe.
Originally, each boat had two gondoliers, but as labour costs went up in the 19th century, builders adapted the gondola by crafting an asymmetrical hull, 24cm wider on the left than the right so the boat tends to lean on the right, creating a pivot that helps a single gondolier standing on the stern manoeuvre the craft with one long oar, and row in the distinctive Venetian manner, known as the voga alla veneta.
Finally, the gondola is given the traditional ornaments, including a forcola, or walnut oarlock; two brass sea-horses and the peculiar-shaped ferro di poppa (or risso 'the curl') on the prow, its curve said to echo the unique rowing movements of the gondolier, its six divisions said to represent Venice's sestieri (although some say it's the mane of the lion of St Mark) and the blade, said to represent in one go the Rialto Bridge and the ducal bonnet.
Recently-built gondolas often hinges on the ferro di poppa in case it needs to be lowered to glide under low bridges during an acqua alta. Because these are increasingly frequent (there were 156 acque alte in 2013) some gondoliers have controversially taken to leaving them off altogether.
Originally gondolas were like taxis, leased to boatmen. As some of these gondoliers were unpleasant characters (the archives contain reports of cussing and bullying) wealthy families began to buy their own gondolas and hire private gondoliers, spending vast sums to paint, gild and pimp their rides as status symbols (note the brightly coloured gondolas in Carpaccio's paintings). The competition got so out of hand that the Senate passed sumptuary laws in 1562, declaring that all gondolas should be black. Some families continued gilded their gondolas and paying the fines, but most went black, as they have remained ever since.
And most of these had the now vanished felze, wooden shelters that permitted a legendary amount of hanky-panky, as Byron apparently knew all too well:
And up and down the long canals they go
And under the Rialto shoot along,
By night and day, all paces, swift and slow,
And round the theatres, a sable throng, They wait in their dusk livery of woe, But not to them do awful things belong,
For sometimes they contain a deal of fun,
Like mourning coaches when the funeral's done.
In the 18th century there were 14,000 gondolas; today there are less than 500, all nearly exclusively used in the tourist trade. Every few weeks in hot weather they gather so many weeds on the bottom that they have to be cleaned.
An unlucky gondola will become so warped in five years that it's only fit for ferrying passengers across the Grand Canal (traghetto), and when it fails there it is burned in the glass furnaces of Murano. So if a ride in a gondola seems dear, figure in the expense, the maintenance and lifespan of the average gondola, and the brief season in which a gondolier makes his living.
In the 14th century, each gondolier belonged to one of 16 traghetti, or landings, which had their own constitution and laws and clubhouse, formerly clustered along the Zattere. Much has been written on their strange cries, almost never heard today: 'Premi!' they would cry if they wanted to pass on the left, or 'Stali!' to pass on the right, and 'Sciar!' if they were about to stop. Back in 1858 their haunting yodels in the night inspired Richard Wagner to incorporate the sound as the long horn note that begins Act Three of Tristan and Isolde.
Gondoliers were quick to quarrel, with hot-blooded insults such as 'You Son of a Cow!', 'Spy!' or 'Assassin!'; and 'The Madonna of your traghetto is a whore not worth two candles!' or 'Your saint is a rascal who can't even make a decent miracle!' – insults that grew ever more vicious the further apart they were. For the Venetians, as Montesquieu said, were the best people in the world, and almost never came to blows.
Modern gondoliers are generally quite genteel; many are Communists, and many are very good-looking. Once when the Venetians were more upset than usual over the neglect and clownishness of the Rome government and the prime minister and other big shots came to Venice for a festival, the gondoliers to a man refused to carry them. Which proved, at least to the local paper, Il Gazzettino, that 'the Venetians still have backbone'.
Occasionally you can even find gondoliers who sing true Venetian songs (barcarolle—rowing songs in 6/8 time, adapted by classical music and opera composers, beginning in the 18th century), although you're far more likely to hear the Neapolitan likes of O Sole Mio, in spite of complaints by purists.
Interested in trying it yourself (gondola rowing, that is, not the singing)? A non-profit group called Row Venice, dedicated to preserving Venice's maritime culture, offers two hour voga alla veneta lessons in a gondola.
Gondola Traghetti across the Grand Canal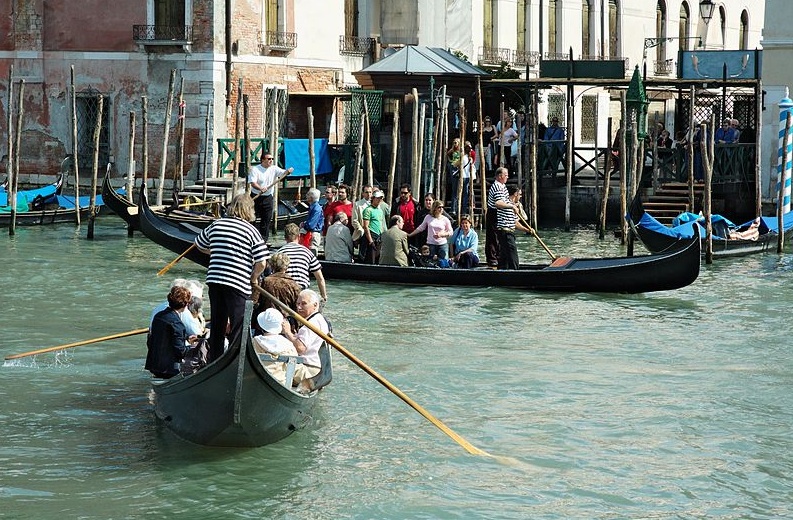 Gondolas retired from the tourist trade are used for traghetti services, helpfully crossing the Grand Canal in the long stretches between its four bridges, offering a chance to enjoy a brief buy economical ride for €2 (compared to the €80 fee for a 40 minute ride).
For appearance's sake you'll have to stand up for the short but sometimes precarious experience: only sissies ever sit down on a traghetto. You'll find them here:
Fondamente Santa Lucia - Fondamenta San Simeón Piccolo
San Marcuola - Fondaco dei Turchi
Riva del Carbon - Fondamente del Vin
Salute - Campo del Traghetto.