Chioggia
Working-class Venice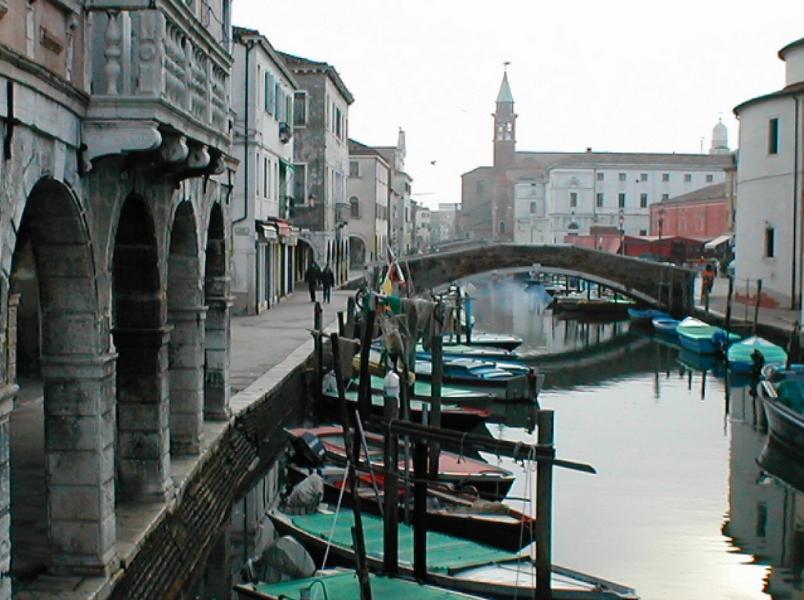 Chioggia, the dusty, southernmost town on the Lagoon, is one of the most important fishing ports on the Adriatic, a kind of working-class Venice where the canals and streets are arrow-straight; where the sails of the fishing fleet are painted with brightly coloured pictures and symbols.
The morning fish market (open Tues–Sun 7–12) is one of the wonders of Italy. The Chioggians have a not entirely undeserved reputation for grumpiness, a temperament that is hardly improved when the uppity Venetians call their little lion up on its column in the Piazzetta Vigo (where the ferry deposits you) the 'Cat of St Mark'.
Goldoni was amused enough by it all to make the town the setting of one of his comedies, Le Baruffe Chiozzotte.
Almost nothing remains of medieval Chioggia (except the incomprehensible dialect of the inhabitants), thanks to the blockade and siege of Genoa's fleet in the 1380 War of Chioggia. But if you take the first bridge left from the port and continue straight, you will reach the church of San Domenico, which boasts Carpaccio's last painting, St Paul.
The town's other churches are strung out along the main street, the Corso del Popolo – the fish market is just beyond a large 14th-century grain warehouse, the Granaio, with a relief of the Madonna on the façade by Sansovino.
Further up the Corso, past a couple of low-key churches, is the Duomo, or cathedral, built by Longhena after the 14th-century orginal, except for the campanile, burned in 1623. In the chapel to the left of the altar are some murky 18th-century paintings of martyrdoms.
And when you've had your fill of fish and the locals, you can stroll along the long bridge (or catch the bus at the Duomo) for a swim among the vivacious Italian families at Chioggia's Lido, Sottomarina.
vaporetto No. 11 ACTV bus and ferry via the vaporetto stop, Lido Santa Maria Elisabetta (S.M.E.). The journey is scenic, runs all year, and takes an hour and 45 minutes.