Claudio Monteverdi
Early opera composer and musical director at St Mark's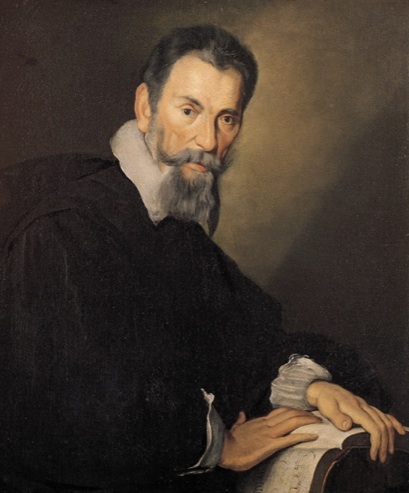 Born in Cremona, composer Claudio Monteverdi (1567-1643) was the great bridge between the polyphonic, polycoral traditions of the Renaissance (where the rich layered singing often made it next to impossible to understand the text) and Baroque monody (where singers sang a single melodic line, with easy to understand lyrics), which naturally led to the invention of opera.
Monteverdi worked in the Gonzaga court in Mantua, first as a singer and musician before he became the musical director and composer. He quickly became renowned for his secular madrigals, was there that he composed his first of 18 operas, Orfeo, for the court in 1607. It wasn't the first opera, but it was the first modern one, with a dramatic plot and orchestration.
But Monteverdi also composed sacred music, and when he was feeling under-appreciated by the Gonzaga he composed his mighty Vespers of the Blessed Virgin in 1610, a devotional work comparable to Handel's Messiah. It also helped him get his appointment in 1613, as musical director of St Mark's. He was noted for immediately improving the quality of the choir, and like his predecesor Giovanni Gabrieli composed for the unique setting: in his Tancredi e Clorinda (1624) the orchestra and voices act as counterparts, originallhy on opposite lofts of the basilica. The piece also the first use of pizzicato and string tremolo to heighten the drama.
He would go on to write madrigals, church music and new operas, some of which were performed in the 1630s in the very first opera houses in the world open to the general public—see San Cassiano and the Teatro Malibran. At age 75 he wrote his most-acclaimed opera, L'Incoronazione di Poppea, which premiered in 1643 during Carnival at the Teatro Santi Giovanni e Paolo and pushed the boundaries of musical theatre to new dramatic heights, with opera's first comedy scenes and a far more realistic portrayal of character.
Hugely popular in his own lifetime, Monteverdi died in Venice after a long illness, sending the music-mad city into mourning. He was buried in the floor of the Frari.