San Clemente
'The Gateway to Venice,' now site of a luxury hotel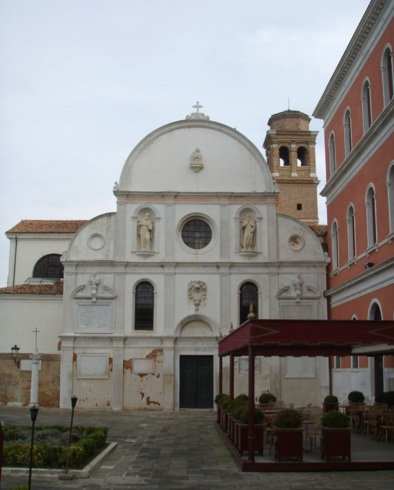 One of several islands located between San Marco and the Lido, San Clemente was first inhabited in 1131, when a church dedicated to Pope San Clemente and a pilgrims' hospice were built. It soon became the chief staging point for Crusaders and pilgrims sailing to the Holy Land (the Venetians weren't keen on having all these generally impoverished foreigners hanging around the city anyway). In 1288, the relics of St Mark's follower, St Anianus of Alexandria, were brought to the island.
But it also became a stage for first class arrivals in Venice. Aristocratic and other important visitors would disembark at San Clemente, and wait to be greeted by the Doge aboard his ceremonial Bucintoro, then escorted in state up the Grand Canal. In 1432, Pope Eugene IV moved the order of Lateran canons, or Carità, to San Clemente, and the monastery was enlarged. A quarantine hospital was built in the 1570s for victims of plague.
In 1642, Camoldolese monks purchased the island. Among the nobility helping to fund the restoration of the monastery were Francesco and Tommaso Morosini, who paid for busts of Morosini family members over the door, and reliefs of scenes from battles commemorating Morosini's victories against the Turks.
Napoleon turned the island into a military post, and in 1840s the island became a mental asylum, one of the first in Europe. Wanting to keep her existence a secret, Mussolini sent his first wife Ida Dalser there, although records say she was sane; she died there in 1937. The asylum was closed in 1992, and became a refuge for the city's stray cats, who had to be moved yet again in 2003 (they currently reside in a shelter in Malamocco) when the island was purchased and its buildings and park converted into a luxury hotel. A decade later it was purchased by the Turkish Permak Group, and refurbished again as the St Regis hotel.